Archives For penelope cruz
It took a while, but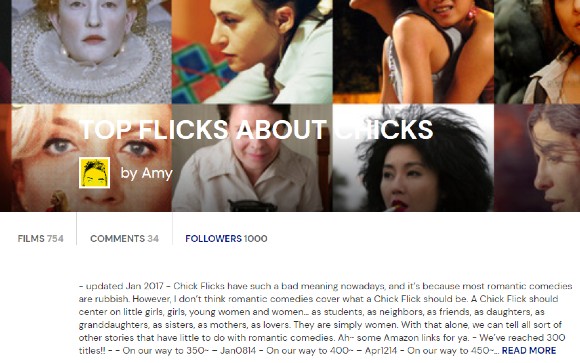 Happy 1000th fan!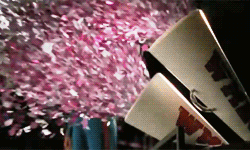 If you aren't following the list yet, you might discover a gem or two!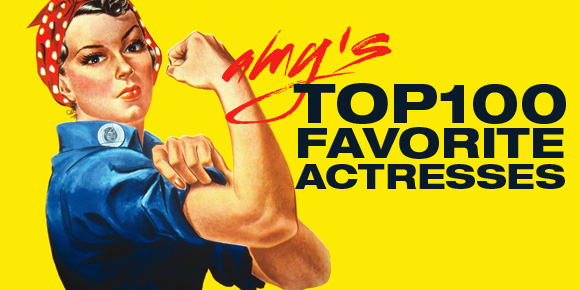 Too much awesomeness into one.
What made it to the list and where it placed? Some of my biggest biases placed lower than expected, and some that I don't want to be my bias placed high on there~
I also made a [nomination] list of all my favorite foreign things of the last decade. If I had included all movies, general suspects would have applied (eg. Children of Men, Dancer in the Dark), but still remains a very ME list. I hope you like the selection, and don't hesitate in suggesting films to watch.
I really can't remember exactly when I started out the Top Flicks About Chicks list on MUBI, but it must have been around the same time I wrote how Chick Flicks was a doomed genre in regards of critics. So it might be almost 4 years… and I've finally reached 300 titles in the list!!!
A Chick Flick should center on little girls, girls, young women and women… as students, as neighbors, as friends, as daughters, as granddaughters, as sisters, as mothers, as lovers. They are simply women. With that alone, we can tell all sort of other stories that have little to do with romantic comedies.
The purpose of the list, of course, was to encompass an array of female character — not only in the binary sense, since the list also includes men/boys who identify as women/girls… and viceversa — of various cultural, ethnic, social backgrounds. Not favoring one genre over the other, not valuing dramas over comedies… just simple stories about different women.
Though I'm sure the list could be longer, that's 300 feature length films out of the 2896 (counting shorts) currently rated on the site- that's roughly 10% so I suppose the list could expand to up to 500 or maybe 1000 once I reach 5000 or 10000 rated films on the site.
I picked 25 of the 300 films to illustrate some of the variety (I hope it's AS varied as I intend the list to be), though I ran out of picks and couldn't include any of the 'older' female characters. If I could pick 5 more, they'd be: Lemon Tree, Frozen River, Late Bloomers, Mother, For 80 Days.
The commercials for Nintendo featuring Penelope Cruz and her sister work great. They still make me laugh. This one is still my favorite though;
Though, the other one with Mario Bros still has its charm. It's also great to see that both versions in Spanish or English are difficult to pin-point which one was the original language. It doesn't look like it's been dubbed… or maybe it was shot twice, but it's hard to tell if both version are slightly different.
In honor of Top 10 Films' 1st anniversary~~~
1. First Film: Enter the Dragon
I figured it must be one of my dad's favorites, since he's the one who got the tapes and did the recordings on the Betamax from tv broadcasts…
I literally know the dialog to Enter the Dragon ;P
The blog C'est la Gene had an article posted a while back during the release of Nine, titled La Plus Grande Actrice du Monde. That's a big name to uphold… but you know, in honor of the positives reviews that Kidman's Rabbit Hole has received, and for getting picked up by Lionsgate for distribution and entering the Award race, I decided to take some time to "translate" and dust off on my French.
Okay, I took a WHOLE lot more time on getting names for this list, because apparently I am not knowledgeable enough in female actresses and well singers from Asia as I first though…
AfterEllen.com also made their annual list of Hot 100 2010 [as well as Top Women of Color, Top Out Women, Top Women over 40], only they made it backwards, so I'm linking you to their last page, and you're going to have to work your way backwards… Ovbiously, I thought AfterElton worked better because I took the time to look through it more than once to make sure I wasn't missing anyone.
Tips for a better list for AfterEllen:
Start from #100
Point out with arrows who's going up or down in positions, and who's a new entry.
And really? No Asians on your list?
Not that I don't appreciate the likes of Alicia Keys, Jennifer Beals, Cate Blanchett, Julianne Moore, Anne Hathaway, Natalie Portman, the girls from Glee (Cheerios plus Rachel, woah that's bizarre xD), Meryl (who doesn't need a last name), Rachel Weisz, Amanda Seyfried (even though the things that are coming out of her mouth lately), Christina Hendricks, Tina Fey, Penelope Cruz, Jodie Foster, Rachel McAdams, the whole cast of The L Word… right? Pink, Emily Blunt, Kate Winslet, Ellen Page, all whom often make appearances on this blog. And to top it with Olivia Wilde…
but then again… no Asians?
So me, barely scraping made a list of Top East-Asians that you might want to consider for future editions of your Hot 100. I would also offer a weekly/monthly (a la my AfterElton offer), but I don't think I'm as knowledgeable in this area. I could try pimping Asian talents on a monthly basis if you want xD
Okay… once again, in no particular order.
Well, hello there~
This has also been a pretty good year of movie-watching — obviously, in terms of number of films watched not quality. Just a couple films I'm dying to watch left…
Watched = orange
Dying to watch = yellow
Wow color me surprise. This is a lot of history in the making…
First, it's a battle against Avatar vs. The Hurt Locker with each having 9 nominations. Followed by Inglourious Basterds with 8, Precious and Up in the Air with 6, Up with 5, and District 9, Nine, and Star Trek with 4.
Also, Peru just made Oscar History with its first ever nomination for Foreign Film.
I just got a few surprises like I asked, as well as really good guesses… missing some films, but also nice surprises like District 9 getting 4 nods. LOL