Archives For swing girls
It took a while, but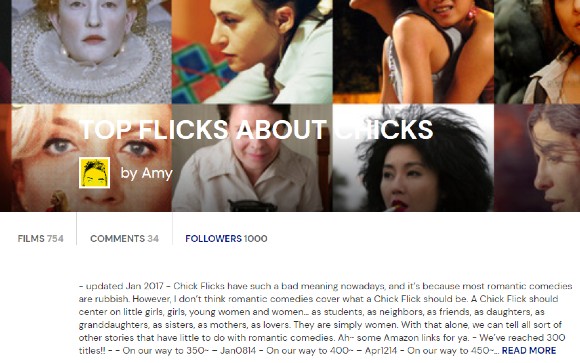 Happy 1000th fan!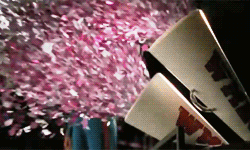 If you aren't following the list yet, you might discover a gem or two!
I really can't remember exactly when I started out the Top Flicks About Chicks list on MUBI, but it must have been around the same time I wrote how Chick Flicks was a doomed genre in regards of critics. So it might be almost 4 years… and I've finally reached 300 titles in the list!!!
A Chick Flick should center on little girls, girls, young women and women… as students, as neighbors, as friends, as daughters, as granddaughters, as sisters, as mothers, as lovers. They are simply women. With that alone, we can tell all sort of other stories that have little to do with romantic comedies.
The purpose of the list, of course, was to encompass an array of female character — not only in the binary sense, since the list also includes men/boys who identify as women/girls… and viceversa — of various cultural, ethnic, social backgrounds. Not favoring one genre over the other, not valuing dramas over comedies… just simple stories about different women.
Though I'm sure the list could be longer, that's 300 feature length films out of the 2896 (counting shorts) currently rated on the site- that's roughly 10% so I suppose the list could expand to up to 500 or maybe 1000 once I reach 5000 or 10000 rated films on the site.
I picked 25 of the 300 films to illustrate some of the variety (I hope it's AS varied as I intend the list to be), though I ran out of picks and couldn't include any of the 'older' female characters. If I could pick 5 more, they'd be: Lemon Tree, Frozen River, Late Bloomers, Mother, For 80 Days.
Ahh… this still makes me laughs. Specially the 180/360 degree shot of Juri's frozen-falling snot and the face of Shihori Kanjiya as she sees the impending snot falling on her. LOL
https://www.youtube.com/watch?v=dHnaP88VYS0
Where are they now?
Juri was in S.Korea promoting Nodame Cantabile, of course. However, I'm getting excited for her turn on her first NHK Taiga drama — I thought about it today as I watched Ryomaden xD which brings me to… Shihori Kanjiya who was also on Ryomaden… and Yuta Hiraoka who still can be seen on Ryomaden xD
Thank you, J-Melo – The Oreskaband performance was pretty awesome.
I was zapping, when their sound caught my ear, so I went back to NHK. They sounded like Gwen Stefani had gotten together with the guys of Reel Big Fish, had some extra fun with Swing Girls, and ended up with a lovechild in Oreskaband.
And I'm always game for some Ska. And, OMG PAPAYA! I totally kept hearing "Papa Para Papaya" which in Spanish means "Dad for Papaya" LOL but I think the lyrics go "Papaya ga suki da Papaya" LOL and in their "Shake it up, baby" I keep hearing "Shaking a baby" which is even funnier.
I blame my cousin for this, because she watched Love Happens. Yes, she actually paid to watch Love Happens, which currently has a 16% freshness rate over at Rotten Tomatoes, and OMG I just checked a 0% from Top Critics hahahaha.
Buahahaha. Sorry, I'm still laughing.
Anyway… it reminded me about an Inside the Gold post, in which K was having trouble writing a review for Made of Honor.
Mostly, I was just getting angry about it for reasons I couldn't understand… then it hit me. There was nothing original about the film. There was so little effort or originality that went into it, that I started to get upset that the film was even made.
That was followed by a request of Chick Flicks – of course, I added a bunch. Good and Bad, and the Guilty Pleasures, because that's what was asked… which brings me back to now. I just got to see (500) Days of Summer, which you could say it's one of those "hipster" films, but in reality it's a romantic comedy. The movie is good, I liked it a lot… in fact, I can't wait to get it on DVD xD It's a not-a-love-story, and it's sort of a chick flick, I think – and it's good. So I don't think it's a doomed genre, there's just a lot of crap around the genre for you to take seriously the really good ones.
In reality, Action films should suffer from the same. There's a lot of crap action films out there that outnumber the really good action films. You can just say "oh, it's another mindless action film." but it still has a better tone to it than saying "it's a chick flick." – that simply sounds negative, without having the intention to.
I made a list of films by themes, and one of them was the "chick-centric" theme – it contained some really good films with female protagonists as mothers, daughters, granddaughters, friends, neighbors, girls, young women and women… etc, etc. – and from the 3 different themes I put together, "chick-centric" was the only one with no votes at all. So we do have a trigger that makes us think the word "chick" immediately means bad PMS mood swings, put your panties up in a bunch, and make your ovaries ache for that brooding-but-charming or geeky-but-charming hunk.
With female-centric films such as Linda, Linda, Linda – or Rachel Getting Married, One Million Yen Girl, The Guitar, Il y a Longtemps que Je t'Aime, Whale Rider, Hana & Alice… Hula Girls, Swing Girls, Kamikaze Girls~~~ or Romantic Dramas and Romantic Comedies like Shunji Iwai's Love Letter. Perhaps American Chick Flicks should think of moving away from the frivolous girl meets boy, boy meets girl and they fall in love forever and always stories that they love to tell over and over again, and actually focus on another aspect of their protagonists lives.
A group of friends trying to make it to the school rock festival, a young woman trying to get one million Yen, a woman who just found out she's about to die, a mother that comes out of jail, a girl trying to follow tradition in the opposite direction. Two friends who are growing up and perhaps growing apart, a group of girls trying to save their town, another group of girls who find something special in their lives, and two girls who find friendship in each other… etc, etc etc.
While we wait for Juri's WOWOW project (please, please! Someone sub this!!! And please, please WOWOW release this with subs), the programming  (non-coding) people have decided to do a Juri Marathon with 6 films! (Sounds like Comfy Monki to me xD) starting on September 7th (That's a Monday, just so you know~)
Sept. 7th – Jozze to Tora to Sakana-tachi (Josee, the Tiger and the Fish)
with Satoshi Tsumabuki and Chizuru Ikewaki
Sept. 8th – Kame wa Igai to Hayaku Oyogu (Turtles Swim Faster than Expected)
with Yu Aoi (!!! xD)
Sept. 9th – Naoko
Sept. 10th – Swing Girls (!!!!)
Sept. 10th – Warau Mikaeru (Arch Angels)
Sept. 11th – GuGu Datte Neko de Aru (Gu Gu the Cat)
with Kyoko Koizumi~~~
Why they chose Josee instead of Rainbow Song makes me wonder… after all she was barely in Josee xD – Anyway, if you get WOWOW, don't miss the chance to watch these six Juri films!
This is my last post for this blogathon, unless I can come up with something on time for tomorrow~
I was reading this post on Japanese Films and Women in Cinema– now, female in cinema is a big BIG subject. I'm not in the position to point out feminists or non-feminists films across the decades or countries. However, I have to admit that looking back at the films I've seen the past year, it feels like many (if not most of them) have a female protagonist. In general, I don't know the reason – if there are more films about women, or if I'm watching them because I'm looking for them. What I do know is that I watched many Japanese films with female leads because I had been on the hunt for Juri Ueno and Yu Aoi projects – so that's got to be at least 10 films led by a female, right?
So here it is… some~
Japanese Chick-centric Films or with Female Leads~
Tonari no Totoro (My Neighbor Totoro)
Kiki's Delivery Service
Hula Girls
Swing Girls
Hana to Alice (Hana & Alice)
Gaichu (Harmful Insect)
Kame wa Igai to Hayaku Oyogu (Turtles Swim Faster than Expected)
Kiraware Matsuko no Issho (Memories of Matsuko)
Quiet Room ni Youkoso (Welcome to the Quiet Room)
Linda Linda Linda
Kamikaze Girls
Shinku (The Deep Red)
Love Letter
Sakuran
Sasameyuki (The Makioka Sisters)
Rinne (Reincarnation)
Tenshi no Tamago (Angel's Egg)
Wool 100%
Hyakuman-en to Nigamushi Onna (One Million Yen Girl)
GuGu Datte Neko de Aru (Gu Gu the Cat)
Kaze no Tani no Naushika (Nausicaa of the Valley of the Wind)
Nishi no Majo ga Shinda (The Witch of the West is Dead)
Blood the Last Vampire
Pikunikku (Picnic)
Of course, there's many animated films asides from the ones I've mentioned above like Paprika, Princess Mononoke, Spirited Away, The Milennium Actress or Perfect Blue. And yes, there are films in my list that are not quite remarkable… and we can also point out that there aren't many female leads of over 30 or 40 (in some way, Matsuko which chronicles her life, The Makioka Sisters, GuGu, and The Witch of the West – who knew Shirley McLaine's daughter spoke Japanese?), but then again… that's a problem that seems to be common in Hollywood too. Does it happen much in Europe? Countries like France or Germany? Are there many films with female leads, or are they as hard to find??
In the end,  it was good to see Meryl Streep (Doubt),  Melissa Leo (Frozen River), Julie Christie (Away from Her), Laura Linney (The Savages), and to some degree Kate Winslet (The Reader) and Marion Cotillard (La Vie en Rose) getting recognition these past two years.
— EDIT June 21 —
I thought this was a great post on the subject. =D
I've hated #4 this past weeks. That number is an unlucky number…
Anyway, this is my 4th contribution to the Japanese Cinema Blogathon, if you haven't been reading… which I hope you have had~~~ because that's the whole point of this blogathon, right? To promote J-Films…
Which brings me to today's topic.
First, Your Friends~ Then the World!
How to Make People Watch Japanese Cinema
It's all about compromise. God knows I've tried so hard to get my friends interested in it, because sometimes it can get boring talking to people about it just online… *sighs* I'm sure I come off as pushy, etc~ and many of them won't budge. I even offer them films to watch for free… they only need to come over, and that's that.
Last year I had a Foreign Film gathering (they chose the foreign theme, anyway), two of the nine films scheduled that day were Tetsuya Nakashima's Memories of Matsuko – mainly because I'm crazy about that film, and I had just watched it a few weeks prior – and Shunji Iwai's Hana & Alice, because Iwai-san and Yu Aoi is lurv. Sadly, no one came on time to watch Matsuko (only one friend arrived… halfway through the film), and I highly doubt they made any connection with Hana & Alice.
Needless to say, I'm setting up another film gathering, though I haven't made them choose themes yet. I have a few lists I've made and they contain a couple of Japanese films. Let's hope one of them stays this year! *crosses fingers*
Anyway… you don't want to come off as pushy – and like I said above… it's all about compromise.
You have a friend who wants to make you watch something of his own?? Maybe he wants to get you into Lost, Heroes… or Battlestar Gallactica? Give in, tell him you will watch a season (or maybe a few episodes, depending on your willingness to compromise) in exchange he should watch a film or two.
This will make your friend feel like you are not pushing him to watch something, instead you're just exchanging interests… and who knows, you might end up enjoying both those hobbies.
When you blog about it, mix things up a little. We blog about Japanese Cinema, but in the end people who already like Japanese Cinema read your posts.
The point of this blogathon is to promote Japanese Cinema, but we are the ones dealing and discussing. I mentioned this blogathon to a friend, and she had no idea why she should care. *doh!* – combine the idols with your favorite Japanese Directors, and get them at least skimming through your posts. Make a western comparison… got something to write about vampire films? psych ward films? I mean Clive Owen has said that he wants to work with Wong Kar Wai and Ang Lee again… that means some teenage Owen fans would be at least be interested in checking out some more work by both directors.
How about a crazy collaboration between Johnny Depp and Tetsuya Nakashima? Or Juliette Binoche and Shunji Iwai?
Make a fuzz about collaborations. No matter how good or bad you may think they are.
I made a fuzz about Tokyo! – I kind of really worship Michel Gondry's visual style… then there was Ryo Kase, and Yu Aoi. – I've also been making a fuzz over New York, I Love You because it's got Shunji Iwai's short with Orlando Bloom. Now, I don't like Orlando Bloom (I've only ever liked him as Legolas LOL), but if there are people who enjoy the short… there is a small chance that a teenage Bloom fan might check out Iwai's past work.
Introduced them with what they like.
My dad likes comedies… and action films, but well~ he also happens to like Asian culture, LOL' so maybe I'm being a little unfair here. Anyway, I've made him watch films like Linda Linda Linda, Matsuko, Swing Girls, Tekkon, Kamikaze Girls… then one day he brought me Akira Kurosawa's Dreams. *laughs* I was surprised myself, but my dad had a newly-found interest in Japanese films (mostly the epic kind though… xD)
and to just not have FOUR bullet points here…
Keep bugging people. Someone will need to budge, right? LOL
LOL, that's how I felt watching episode 1 (out of 6) of the TBS drama Godhand Teru starring Yuta Hiraoka, whom I totally recognize from Swing Girls. LOL But, honestly, I'm watching this because of Asami Mizukawa~~ I just ran into it, saw her and well… let's give it a try~ After all, I did enjoy the last show I saw with her.
Also, when di Hiraoka Yuta get kind of hot? LOL' he was totally working the dorkability alongside Juri Ueno back in Swing Girls… and he's also sporting a bit of a dork vibe~~~ I mean, I did recognize him for it!
The drama seems interesting, and probably will finish watching it… unlike Voice (even Eita couldn't push me to finish that show) ~~ after all! Godhand is only 6eps, I can deal with that…
As for the Power Rangers reference? Well, Teru (Hiraoka) has sort of a superpower (to simplify things a bit) that was handover by his dad when he died on a t errible plane crash… this power takes over Teru each time there's a life or death situation, and it's totally Power Rangers that sequence~ LOL'
Once again… imcomplete internet data makes me keep track of films in here~ xD Sept. 4 –
WOW, it's the end of the month O_o, geez Time flies by~~~ The following were on my list of latest buys of Region 3 from Hong Kong:
Kiraware Matsuko no Issho
Love Letter
Hoshi ni Natta Shounen
Swing Girls
Niji no Megami
RIRI SHUSHU (Lily Chou Chou) no Subete