Archives For swing girls
It took a while, but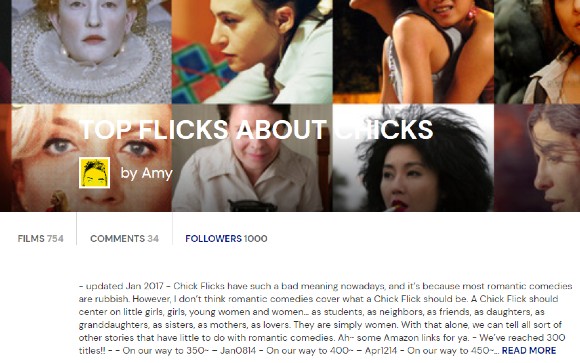 Happy 1000th fan!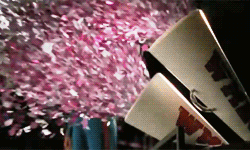 If you aren't following the list yet, you might discover a gem or two!
I really can't remember exactly when I started out the Top Flicks About Chicks list on MUBI, but it must have been around the same time I wrote how Chick Flicks was a doomed genre in regards of critics. So it might be almost 4 years… and I've finally reached 300 titles in the list!!!
A Chick Flick should center on little girls, girls, young women and women… as students, as neighbors, as friends, as daughters, as granddaughters, as sisters, as mothers, as lovers. They are simply women. With that alone, we can tell all sort of other stories that have little to do with romantic comedies.
The purpose of the list, of course, was to encompass an array of female character — not only in the binary sense, since the list also includes men/boys who identify as women/girls… and viceversa — of various cultural, ethnic, social backgrounds. Not favoring one genre over the other, not valuing dramas over comedies… just simple stories about different women.
Though I'm sure the list could be longer, that's 300 feature length films out of the 2896 (counting shorts) currently rated on the site- that's roughly 10% so I suppose the list could expand to up to 500 or maybe 1000 once I reach 5000 or 10000 rated films on the site.
I picked 25 of the 300 films to illustrate some of the variety (I hope it's AS varied as I intend the list to be), though I ran out of picks and couldn't include any of the 'older' female characters. If I could pick 5 more, they'd be: Lemon Tree, Frozen River, Late Bloomers, Mother, For 80 Days.
Ahh… this still makes me laughs. Specially the 180/360 degree shot of Juri's frozen-falling snot and the face of Shihori Kanjiya as she sees the impending snot falling on her. LOL
Where are they now?
Juri was in S.Korea promoting Nodame Cantabile, of course. However, I'm getting excited for her turn on her first NHK Taiga drama — I thought about it today as I watched Ryomaden xD which brings me to… Shihori Kanjiya who was also on Ryomaden… and Yuta Hiraoka who still can be seen on Ryomaden xD
Thank you, J-Melo – The Oreskaband performance was pretty awesome.
I was zapping, when their sound caught my ear, so I went back to NHK. They sounded like Gwen Stefani had gotten together with the guys of Reel Big Fish, had some extra fun with Swing Girls, and ended up with a lovechild in Oreskaband.
And I'm always game for some Ska. And, OMG PAPAYA! I totally kept hearing "Papa Para Papaya" which in Spanish means "Dad for Papaya" LOL but I think the lyrics go "Papaya ga suki da Papaya" LOL and in their "Shake it up, baby" I keep hearing "Shaking a baby" which is even funnier.
I blame my cousin for this, because she watched Love Happens. Yes, she actually paid to watch Love Happens, which currently has a 16% freshness rate over at Rotten Tomatoes, and OMG I just checked a 0% from Top Critics hahahaha.
Buahahaha. Sorry, I'm still laughing.
Anyway… it reminded me about an Inside the Gold post, in which K was having trouble writing a review for Made of Honor.
Mostly, I was just getting angry about it for reasons I couldn't understand… then it hit me. There was nothing original about the film. There was so little effort or originality that went into it, that I started to get upset that the film was even made.
That was followed by a request of Chick Flicks – of course, I added a bunch. Good and Bad, and the Guilty Pleasures, because that's what was asked… which brings me back to now. I just got to see (500) Days of Summer, which you could say it's one of those "hipster" films, but in reality it's a romantic comedy. The movie is good, I liked it a lot… in fact, I can't wait to get it on DVD xD It's a not-a-love-story, and it's sort of a chick flick, I think – and it's good. So I don't think it's a doomed genre, there's just a lot of crap around the genre for you to take seriously the really good ones.
In reality, Action films should suffer from the same. There's a lot of crap action films out there that outnumber the really good action films. You can just say "oh, it's another mindless action film." but it still has a better tone to it than saying "it's a chick flick." – that simply sounds negative, without having the intention to.
I made a list of films by themes, and one of them was the "chick-centric" theme – it contained some really good films with female protagonists as mothers, daughters, granddaughters, friends, neighbors, girls, young women and women… etc, etc. – and from the 3 different themes I put together, "chick-centric" was the only one with no votes at all. So we do have a trigger that makes us think the word "chick" immediately means bad PMS mood swings, put your panties up in a bunch, and make your ovaries ache for that brooding-but-charming or geeky-but-charming hunk.
With female-centric films such as Linda, Linda, Linda – or Rachel Getting Married, One Million Yen Girl, The Guitar, Il y a Longtemps que Je t'Aime, Whale Rider, Hana & Alice… Hula Girls, Swing Girls, Kamikaze Girls~~~ or Romantic Dramas and Romantic Comedies like Shunji Iwai's Love Letter. Perhaps American Chick Flicks should think of moving away from the frivolous girl meets boy, boy meets girl and they fall in love forever and always stories that they love to tell over and over again, and actually focus on another aspect of their protagonists lives.
A group of friends trying to make it to the school rock festival, a young woman trying to get one million Yen, a woman who just found out she's about to die, a mother that comes out of jail, a girl trying to follow tradition in the opposite direction. Two friends who are growing up and perhaps growing apart, a group of girls trying to save their town, another group of girls who find something special in their lives, and two girls who find friendship in each other… etc, etc etc.