Archives For Rants
it's like impossible for girl groups to make it.
We're all missing out on this amazingness~
We're living in a world obsessed with identity, origins and DNA. I'm starting to believe this is a conspiration to get us all to test our DNAs -paying and very much willingly- to see where we 'really come from.' No, like- really, where YOU REALLY come from. First it was this overly dramatic flights company, Momondo ad. Followed by this DNA test Buzzfeed video, which got me really really wondering.
Then this Joanna Rants Flama video about hyphen identities~~~ with a shout out to Asian-Peruvian (Protestant)! xD Which in the end sent my head spinning mainly because of my dad's side. Peruvian isn't really a racial identity, though some would differ. I don't know much about my dad's side of the family, but I know more than my mom's side~~~ one thing is certain, I'm positively certain my mom is 99,9% East Asian xD which makes me, at least, half East Asian (if not half full Chinese, despite having two Chinese last names~)
I know my grandpa on my dad's side was mixed Chinese and I know my grandma on his side was mixed Spanish-Afro-Peruvian, but not certain on percentages. I'll have to ask my aunt around now. But that would make my dad, at least, half Spanish creole (if not more) Afro-Chinese Peruvian xD and that would make me…… Chinese Spanish creole Afro-Peruvian? xD A Queer Catholic-by-culture Franciscan-by-school Agnostic Chinese Spanish Creole Afro-Peruvian. And that doesn't even paint the political colors. xD
But interesting.
I'm totally into the idea of finding out what's in me, but at the same time, I've been watching too much Orphan Black. lol
If you read this blog and/or have stumbled upon a post on the subject or -somehow- seen my comments on social media or… maybe a review or feature I've written, you'd know I'm not very fond of Sonam Kapoor [1]. Or I wasn't. At the moment, I'm not sure anymore. A while ago, I saw her on Khoobsurat, which in normal circumstances I wouldn't have picked, but it was Disney (!) so I couldn't help myself.
It's perfectly fine light entertainment, though I think this is the first time I've seen a Disney movie where our female protagonist gets (though admitedly quite endearingly funny) pissed drunk, who then later accepts a bottle of soda with ruffies to end up kidnapped (don't worry, it's still Disney so nothing happens), and finally ends up with a (hot) prince that was engaged to some other woman. Anyway~ since then, I found myself not hating Sonam as it seems like she's TRYING. Like- you can sense a change of pace/vibe.
Dolly ki Doli doesn't look awful.
And in this segment for Anupama Chopra's The Meeting Ground, Rajkummar Rao (who is also in DkD) makes her palatable. It gets a bit awkward when they keep going on their talk on star children and their upper hand in the industry. Sonam tries to make a point, but Angelina Jolie didn't make her starring debut in a studio picture with a brand director. Angelina's credits went from a small role in one of her dad's films, to straight-to-video releases and shorts until Without Evidence.
Gwyneth and all her Gwynethness is a bit more lucky, but not as lucky as star children in India. TV Movie debut directed by her dad, small role on a movie until she cameo'd on godfather Steven Spielberg's Hook. It wasn't until a few years later when she landed Se7en with Fincher and PTA's Hard Eight.
Nobody goes to Eva Amurri or Rumer Willis and tells their parents Susan Sarandon, Demi Moore or Bruce Willis, "I want to launch your daughter with this banner."
LOL, this seemingly harmless post turned into a rant. But honestly, no one would care if a star child would begin with small roles in movies, working their way up. Instead, they are given starring roles in medium-big budget films to launch them.
Rant over.
Except for the mandatory appreciation for Boyhood (the Patricia Arquette show) and Whiplash, which had me contorting from all the conflictive feelings, I'm feeling rather lukewarm with this year's award season as you can see from my 2014 Films Ranked compared to my Academy Award Watchlist.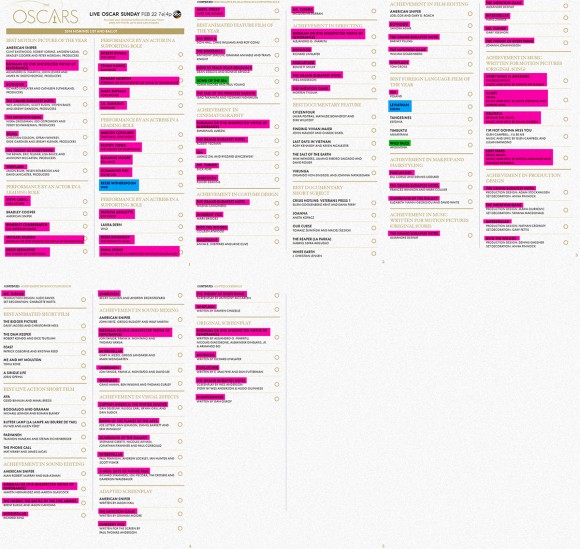 Hot pink is watched, light blue on to-watched queue, highlighted in green haven't been found yet. My excuse for lack of documentaries and shorts is because of access. I find them extra difficult to get. Also, any respectable award show needs the presence of Haider. LOL And I could do a LOT LESS from Clint Eastwood. I'm not even one of those complaining for lack of women behind/in front of the camera, the nominees are just so damn BLAH! except for the few couple of surprises- some spice with Marion Cotillard (even though I don't feel strongly about the movie), Ida and Mr. Turner in cinematography… and The Tale of Princess Kaguya.