Archives For elle fanning
It took a while, but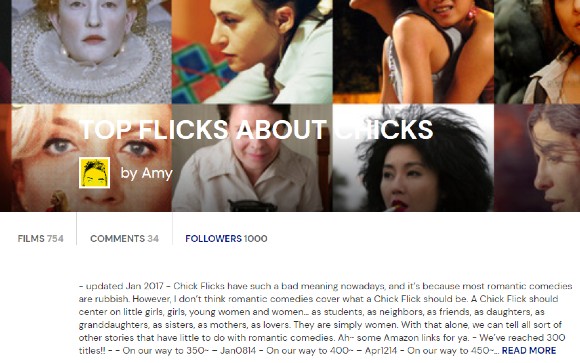 Happy 1000th fan!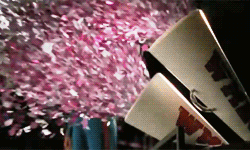 If you aren't following the list yet, you might discover a gem or two!
I really can't remember exactly when I started out the Top Flicks About Chicks list on MUBI, but it must have been around the same time I wrote how Chick Flicks was a doomed genre in regards of critics. So it might be almost 4 years… and I've finally reached 300 titles in the list!!!
A Chick Flick should center on little girls, girls, young women and women… as students, as neighbors, as friends, as daughters, as granddaughters, as sisters, as mothers, as lovers. They are simply women. With that alone, we can tell all sort of other stories that have little to do with romantic comedies.
The purpose of the list, of course, was to encompass an array of female character — not only in the binary sense, since the list also includes men/boys who identify as women/girls… and viceversa — of various cultural, ethnic, social backgrounds. Not favoring one genre over the other, not valuing dramas over comedies… just simple stories about different women.
Though I'm sure the list could be longer, that's 300 feature length films out of the 2896 (counting shorts) currently rated on the site- that's roughly 10% so I suppose the list could expand to up to 500 or maybe 1000 once I reach 5000 or 10000 rated films on the site.
I picked 25 of the 300 films to illustrate some of the variety (I hope it's AS varied as I intend the list to be), though I ran out of picks and couldn't include any of the 'older' female characters. If I could pick 5 more, they'd be: Lemon Tree, Frozen River, Late Bloomers, Mother, For 80 Days.
Forgive the late post. xD
Black Swan leads the Broadcast Film Critics nominations with 12 nods, including Best Film, Director, Actress, and Supporting Actress. In the newcomer award, Chloe "Hit Girl" Moretz earns two nods for Kick-Ass, as well as Let Me In… which could pretty much suck because that would mean her votes split… or she could win for Kick-Ass, just because Hit Girl is awesome.
Why couldn't they nominate her once for both like they do in Japan?
Cool stuff from these nominations? Some love for I Love You Philip Morris! And nomination for Jennifer Lawrence for Winter's Bone in Best Actress and Young Actor/Actress, that's going against Hailee Steinfeld for True Grit in Supporting Actress and Young Actor/Actress – it's on!
Sucky about this? There's no consistency in nominees… you've got categories with only 3 nominations — they'd better have nominated Madeo (Mother) last year, or I'm calling foul.
I was watching a re-run of How to Eat Fried Worms, and noticed a couple of known kid faces. Like Hallie Kate Eisenberg (most known as the Pepsi girl… or from the movie Paulie, LOL) – Alexander Gould from Weeds… well, I know him from there anyway. And… Ryan Malgarini who I know from The Hot Chick (he played the little brother, ha!). Anyway, it got me thinking that I couldn't really think of any boy actor who wows me at the moment. I mean, when you think of child actors nowadays, you can immediately name Abigail Breslin (aka. Little Miss Sunshine)… or Dakota Fanning. In my case, I would also mention Jodelle Ferland of course~~