Archives For zhou xun
It took a while, but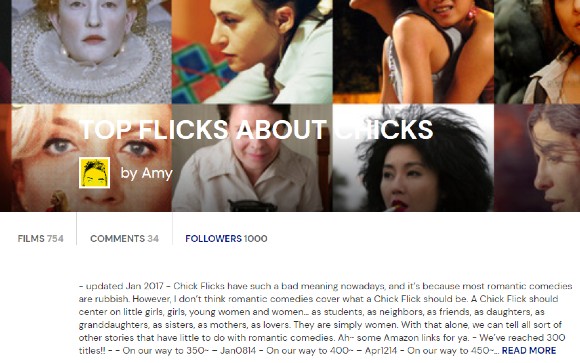 Happy 1000th fan!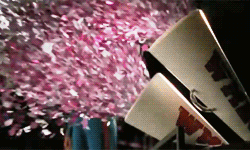 If you aren't following the list yet, you might discover a gem or two!
I ran into this video on YouTube from the Off the Great Wall channel, and they got a bit of flack over the fact that a vast majority of their picks (3 picks for each of the four speakers) were East Asians xD — only one South Asian pick, because Aishwarya has to be everywhere xD, and then there were the Asian-American (Lucy Liu, I don't think she's mixed… is she? And she makes it twice~), the Euro-Asian (but basically) Asian-Americans (Maggie Q + Olivia Munn), and (off the official list) the Euro-Asian (Thai-Swede Praya Lundberg).
The thing is beauty is such a subjective element- whatever floats your boat depends on who you are, cultural background, upbringing, etc. But I do agree with Dan (though he doesn't apply his own rule when it comes to Munn) — especially when making lists — Staying Power is important.
So I do agree 100% that Gong Li deserves that spot. She's fabulous and continues to be even more fabulous… In Bollywood talk, Gong Li basically started her career doing de-glam roles in banned Zhang Yimou movies. She was a villager so often, wife of gangsters; and in her 40s, she became an Empress. That's the complete opposite of the typical Bollywood heroine. She hasn't been acting much, but a couple of years ago she romanced Andy Lau in a sick powersuit, and just a year or two ago broke everyone's heart as the wife of a writer during the Cultural Revolution. This year? She's the baddie in one of the blockbusters on this season- The Monkey King 2. And yeah~ she still looks as fabulous as ever at 50 years old.
Besides staying power? Talent, especially when it comes to celebrities, you know? Someone that can do their job like no other? Interview (variety show appearace) perception is a big plus, but CV is important.
But sometimes, so it happens, I also break my own rules~ lol
Also~ my Pakistan, South East Asian, Middle East and Russian games are not strong. Neither is my Asian-Latino game. So forgive the lack of names there, and I do take suggestions (especially if they come with great movie recommendations~~~).
All below listed by seniority~
My limit for sap is through the roof, as I got all warm and fuzzy when I found this song Rene Liu recorded with mah gurls Zhou Xun, Kwai Lun Mei and Tang Wei (whom I've just recently warmed up). They're all super cute and super dork and super sappy together. I love it.
The song is called Wish You Well (我要你好好的), a single of Rene's latest album of the same name, but it's one of the last songs to get a video. The song Murmur of the Hearts (念念) [MV] is also on this album. I thought maybe it was for a movie, but doesn't seem likely.
Happy listening~ DORK AWAY!
I'm trying to wrap my head on the fact that Mario Testino photographed these Chinese perfections- (From Left to Right) Zhao Wei, Liu Wen, Carina Lau, Fan Bingbing, and Tang Wei. Li Bingbing, Du Juan, Zhang Ziyi, Chris Lee (Li Yuchun), and Zhou Xun.
Celebrating 10 years of Vogue in Mainland China.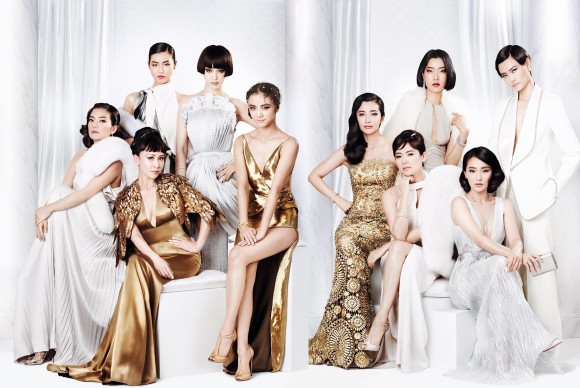 Note, though, that Carina Lau (sitting in gold on the far left) is turning 50 this year. I'm just saying. She's at least 8 years ahead of Li Bingbing (sitting in gold in between Tang Wei and Zhang Ziyi) and 10 years ahead of Zhou Xun and Zhao Wei. And Carina is sitting below model Liu Wen, who is 27. I'm just saying.
Carina Lau deserves our respect.
I, of course, also ended up finally watching Peter Chan's Perhaps Love (如果·爱), which is China's -possibly- only formal foray into the musical genre. They were probably so into Moulin Rouge! and Chicago at some point, they got Farah Khan to whip some of her Bollywood 90s magic. You can see all the influences.
But, of course, Chinese people don't believe in happy endings… even in musicals! Farah Khan probably watched this and was bored out of her mind because she probably doesn't get us tortured East Asian souls. I did buy into all the grown-up lamenting love story.
To misquote Ron- I want to suffer, but I want to be happy about it.