Archives For Spanish
It took a while, but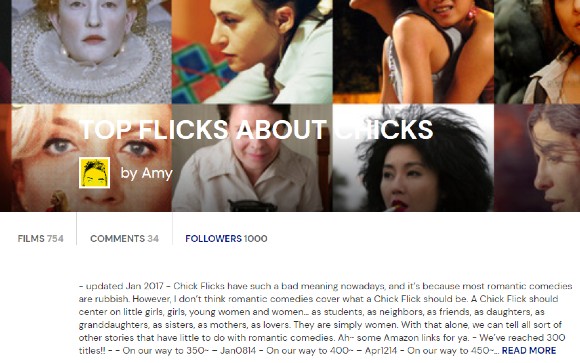 Happy 1000th fan!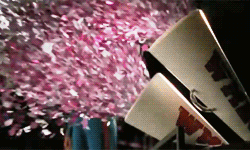 If you aren't following the list yet, you might discover a gem or two!
It's a beautifully animated and textured short. Spooky enough, but I'm not crying, YOU ARE.
I'm ready to vote! I received the most digital screeners this year so far, so it's been easier (and it's made it lazy-proof) to sit through dozens of screeners. Plus, Netflix has a lot of the nominated movies readily available too. This year is possibly my best award season ballot in my history of keeping up with ballots. lol
It's not only my Spirit Awards ballot~
I also have a pretty complete Oscar ballot. lol
Continue Reading…
It's unbelievable how quickly the year has come to an end. And though there's still so many hours of un-watched films, we must all begin sharing our End of the Year lists.
As per tradition, here's my 2018 music highlights. As Jocelle pointed out, might change drastically midway through 2019. LOL Remember when Su Yunying released an album on December 31st? Chinese people got no chills.
Look who's playing her Solar Emotions LP
ToT
I'm a stan. I have decided to stan forever. LOL Well, at least a few years. A few years in this day and age is an awfully long time, which is practically forever. I've seen relationships that have lasted less than my two and a half years as a moomoo. xD
I've been a fan of Yu Aoi for a decade now [1][2]. I'm expecting my moomoo status to be just as long.
If they ever do an event here. I'm done for. LOL I've been wanting to feed them my whole moomoo life, as the Grandma Radish that I seem to be turning into.
Damn you, Solar, you making me cry for picking that song for Solar Gamsung. LOL
Like- the song on its own is super sad, but it works well with its video… but the Japanese version? Literally, Nada Sou Sou. xD With the Shamisen, and the goddamn subs in Spanish. ToT
Makes me miss my dad so much.
Me acostumbré a rezarle a la primera estrella, al atardecer miro al cielo y con el corazón lleno te busco. En la tristeza y la alegría, pienso en esa sonrisa; si desde donde te encuentras, me puedes ver, yo viviré creyendo que seguro nos encontraremos algún día.
Damn, I missed ya, Gaji~ I still miss Seju and all her drama, but Pet Aesthetics (애완의 미학) is as close as it's gonna get for a while (at least), and I did see what you did there *wink wink nudge nudge* Also, I missed those *badump badump* The art, the aesthetic. Damn it.
I do wonder… are you gonna make me cry? lol
So… I'm going to the upcoming Super Junior concert xD
You know Peru was like, the Kpop Latin American capital back in 2011-2012 when the Big Bang concert happened here. The only Latin American place coz Big Bang was/is huge. SM fans are huge too, but… our concert bubble exploded, our concert infrastructure is crap, so we've missed out on a lot of things. Like a lot of big events that I heard were gonna happened, never got to happen.
Last year I just dove deep into my Kpop nostalgia, Mamamoo has drowned me in Kpop and all Korean things, so I followed a lot of Korean variety and groups, and I ended up thinking that SM released two really good albums for SNSD and Super Junior, which also happened to go great back to back. For those who know me, I have a grip with most Kpop albums because I only tend to like the title track (or just one song in the album). Well, in the case of Holiday Night and Black Suit, they're solid albums with a pace and a feel. That's a rare occurrence.
I had never really followed Super Junior, it's only been lately that I learned a couple of their names aside from Leeteuk and Siwon. xD Sorry, Sorry is the only song I can sing to, but lol I did get to see their Weekly Idol appearance and I died looking at Donghae with his platinum blond hair. xD And then he started showing his weepy emotional side, and I was gone. LOL
I've been trying to fix my Current Flavors' age, and I can sense my average age going down.
You know, for a year when I didn't watch that many movies, I'm doing pretty good. LOL Confession! I haven't been following award season, it does feel like it's my second or third year already. I do know that people have been freaking out because all critic guilds and industry guilds have been awarding all different movies.  As the saying goes~ todos parecen más perdidos que cuy en tómbola!
Here's my Spirit Award one.
Light blue highlights mean watched, hot pink are pending, and green on the queue already.
My favorite competing film this year (so far) is Lady Bird coz it got me in the feels. I wouldn't mind The Shape of Water winning, though. Considering BAFTA nominations (Producers' Guild win and Directors' Guild nom), The Shape of Water does seem to have a love more momentum than actors-backed Three Billboards, and this one also has a strong BAFTA showing.
Fun fact, yo! Darkest Hour, Phantom Thread and Victoria & Abdul are [most likely] the first Chinese-backed films that make it to Oscar. All backed by Perfect World Pictures (北京完美影视传媒) [1].