Archives For france
It took a while, but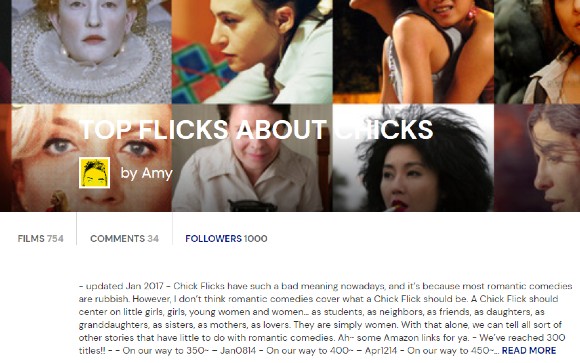 Happy 1000th fan!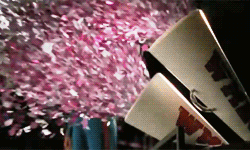 If you aren't following the list yet, you might discover a gem or two!
My only Letterboxd anticipated message came in the other day, but I took a little bit longer to post because the better side of my OCD got to me.
But here it is!
I went on a Stephen Chow binge, and got to watch a bunch of Hrishikesh Mukherjee films for MUBI. Not to be the Debbie Downer of the terrible 2020, but I hope 2021 picks up. This is the first time in my movie-watching history that I only have one single 4-star rating in my Year Films Ranked list. Two titles if you consider Marona's Fantastic Tale.
This 2021, I have decided to shut off social media and restart blogging once again. It doesn't matter if it's into a blackhole of information. I've started with this Spanish translation of a review for Zoya Akhtar's Dil Dhadakne Do, since the film is in rotation at the Indian entertainment channel ZeeMundo. We also have a proper Spanish title for Haider (!).
Look at that trippy animation~
I forgot to share this! Gobelins is always great for student animation, it seems the shorts they're posting on YouTube will be feature at the current Annecy Film Fest~ including this fantastic short by Fabien Corre, Sixtine Dano, Thibault Leclercq, Katie Sung Lee, Valentin Lucas, and Andrei Sitari.
It's gorgeously animated when a bar fights strikes involving a bunch of artists in 1910, Montmartre.
L'Oreal Paris has a bunch of brand ambassadors by region, and they all get invited to Cannes; among them, there's people like Eva Longoria, Aishwarya and Sonam Kapoor, who all end up walking the festival's red carpet events, just like last year. This time around, they got them all for this commercial that also credits J.Lo and Blake Lively, even though I don't really spot them in it.
Those who do make it and aren't listed, however, include Aishwarya, Sonam Kapoor, and the Bingbings– Fan Bingbing and Li Bingbing. That's on top of Jane Fonda, and everyone's faves Julianne Moore and Naomi Watts, who all come together to gather round John Legend.
https://www.youtube.com/watch?v=rkN38gSytHk
The idea of them coming together around Legend gave me vibes of that Lux Soap Commercial that Shahrukh Khan did like a decade ago, which featured Hema Malini, Juhi Chawla, Kareena Kapoor, and Sridevi… but then I watched it again, and that one was grosser. xD La Vie en Rose, at least, is a nice soft tune to give you the feeling of floating in the clouds xD
— EDIT 12Aug'16 —
Here's the L'Oreal India upload.
This is love~
The international cut of the trailer also looks so good~
Merry Christmas, everyone! I spent all day listening to Xmas music xD
During this year's family dinner, I made a decision on my New Year resolution- I bow to try to not be a moral superior asshole in discussions. And I kowtow to those I had ugly discussions with (if any), if I ever made you scream at your screen- I'm sorry. I had an ugly discussion about food! FOOD! A discussion on food got ugly! LOL It was like being on an internet forum, and I kept feeding the troll. I'm sorry.
Anyway~
Today I decided to not stress over my End of the Year list any longer, so I finally published my list of Favorite Films of 2015~
I managed to get 195, without counting the films that I didn't rank because I don't rate certain documentaries. I managed to squeeze in Carol, The Revenant, and Spotlight… which did almost crack my Top10 Films in English. I wonder if I hadn't post the list, if it would've placed differently.
Oh, that also means that, just like my movie collection, I've segregated my lists by languages. There's a general list, but also included lists for films in English, Chinese/Mandarin, Indian, Latino and Miscellaneous languages, which includes all languages that I didn't watch enough films for a proper Top10.
Yeh Dil Vole! xD
Anyone who've seen both Sanjay Leela Bhansali's 1996 directorial debut Khamoshi: The Musical (Silence: The Musical) and last year's Belgian-French La Famille Bélier -by Eric Lartigau- can spot the similarities between the two (as well as the 1996 German film Beyond Silence (Jenseits der Stille) by Caroline Link). You can even spot the similar plot points by either reading the outline or watching the trailer.
In the pivotal emotional punch of the movie, the daughter (played by Manisha Koirala and Louane Emera respectively) auditions to the coveted singing position, when her (deaf) parents -who had been against the idea- show up to see their daughter perform both vocally and in sign language. Koirala (voiced by playback singer Kavita Krishnamurthy) doing Yeh Dil Sun Raha Hain (This Heart Is Listening), and Emera singing Je Vole (I Fly).
https://www.youtube.com/watch?v=SM5SDobPdi0
Though Lartigau's more modern take is much more musically accessible (let's be honest, the film starts out with 2008 staple That's Not My Name [1]), it's also lighter. Bhansali's story focuses a big chunk of his running time to tell the story of Manisha's parents, also incredibly played by Nana Patekar and Seema Biswas, their struggle to raise a (hearing) child in near poverty levels, to the point that Patekar goes door to door with his daughter to make a living selling things.
Of course, both also have a love interest, and both Salman and Ilian Bergala are the weakest link.
I declare- DRAW!