Archives For coupling
I've got some pretty nice recommendations to share.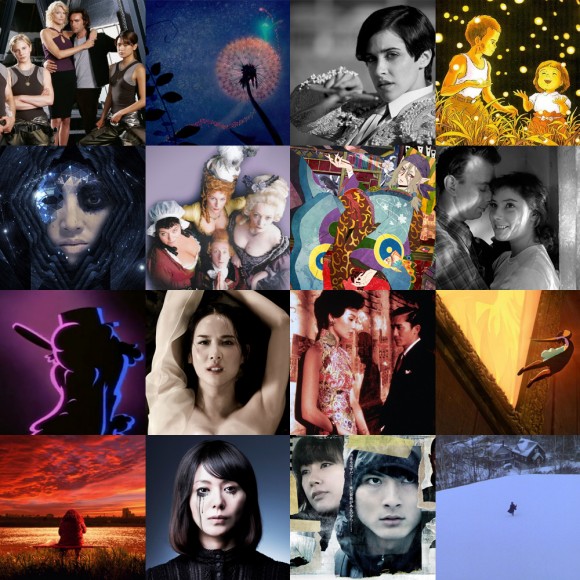 I'm in the mood for some Sally singing Susan, The Happy Trotting Elf~
Though, moment starts exactly at 1:11
I'm Susan the happy trotting elf! I trot and trot, and bounce and bounce, and smile a lot, and that's what counts! I'm Susan the happy trotting smile a-lotting elf! I'm polite so just for clarity, when I'm cross I say "Apparently!"
His Eyes Were Watching Movies with a Television Meme… Hmmmkay~
Day 01 – A show that should have never been canceled
Firefly
Day 02 – A show that you wish more people were watching
Dexter
Day 03 – Your favorite new show ( aired this t.v season)
Glee – I don't think people get why I watch it.
Day 04 – Your favorite show ever
Buffy the Vampire Slayer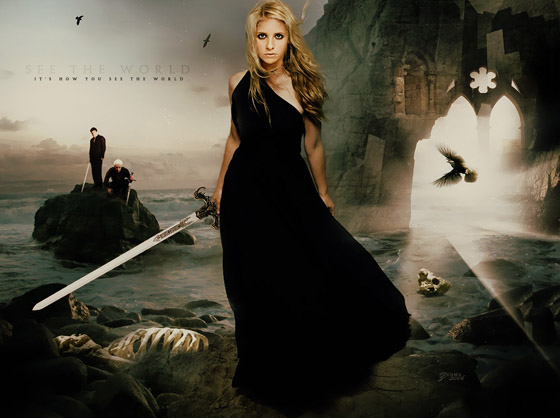 Day 05 – A show you hate
CSI Miami – I was gonna say some reality tv, but it seemed unfair.
No software for work at the moment… so I'm watching clips on YouTube.
No need for office time for YouTube surfing, right?
Don't miss out on Steve's rant.
I still think I'm a combo of Sally, Susan and Steve all together.
—
From the New York Times comes an article that talks about how some casting directors and directors are reacting to butchered surgery jobs on actors…
Independent casting directors like Mindy Marin, who worked on the Jason Reitman film "Up in the Air," are urging talent agents to discourage clients from having surgery, particularly older celebrities who, she contends, are losing jobs because their skin is either too taut or swollen with filler. Said Ms. Marin: "What I want to see is real."

Even extras get the once-over. Sande Alessi, who helped cast the "Pirates of the Caribbean" movies, said she offers to photograph actresses in their bathing suits, telling them they can keep the photo for their audition books.

Professional courtesy? Not exactly. Moviemakers prefer actresses with natural breasts for costume dramas and period films. So much so that when the Walt Disney Company recently advertised for extras for the new "Pirates" film, the casting call specified that only women with real breasts need apply. By taking a photograph, Ms. Alessi said, "we don't have to ask, we will know."
Because…
Talent > Plastic Looks… right?
Please someone tell that to Reality TV not even worth mentioning here.
And I love photos with wrinkles… of course, not MY photos with wrinkles, but I do love my movable face… even though my mother keeps telling me to stop making faces. So I'm kinda taking the Sally approach to limit of facial expressions hahahahaha.
Though it wasn't overly lasting, Coupling (the UK version, not its abominable US remake… ugh much?) should be included into anyone's list of  "I should have watched this". This is the case for me, I don't get BBC comedies on my cable system (only the news, and they recently began showing BBC Entertainment), so the first time I saw this was on Eurochannel a few years back. In fact, they were already showing the final season… even then, I fell in love with the show.
I think of myself as a bit of a mix between Susan, Sally and Steve. LOL' But all characters were equally hilarious in their own way… and unlike FRIENDS, I never ended finding a character annoying. Perhaps, it's because it only lasted 4 seasons, so I never got around to growing to hate them… okay, maybe I hated Oliver – but that's because he is too much of Joey, and I ended up hating Joey.
Steve (Jack Davenport) is hilarious… and man! His voice!! His voice and the monologues… like the one for "Lesbian Spank Inferno" LOL' Jeff is also hilarious with his explanations, theories, women-related situations and many words on "breasts".
And more than Richard, I love Richard and Sally's interactions, because well… Sally is gold. LOL' "I finally understand why you called him 'donkey'." And totally missing the point. I think that my favorite episodes of the show, revolves around these two~~ with episodes like the one and the Spiderman theme, and the one where Sally ends up singing "Susan the Happy Trotting Elf" – *snorts*
Then there's Jane who is hilariously just out there… where? You know… there~~~ with the talking snakes, or improvising the traffic report… showing up naked to a dinner, or saying she's a vegetarian that eats meat… you know, almost like a bisexual. x'D
And Susan! I love uptight Susan, and I love it when she says "apparently", and her French accent. LOL' "Giselle, the French bitch" xD and her history with Australian men~~~