Archives For Music
BiBi's got a brand new song titled Hello World, the theme for the new Mainland Chinese movie The Breakup Guru (分手大师), which opens…  on June 27th. The vibe of the song is very Train's Hey Soul Sister-y and Jason Mraz-y chill whimsical folksy.
Fun fact: Jason Mraz's Wordplay [MV] was my jam back in my Vancouverite days. Never liked him as much since then.
… and in the process gets to remind me of Dido, for some reason.
Tizzy Bac vocalist Chen Hui Ting is set to release her solo album 21gr. (21克), which includes this song titled Set on Fire. The video is directed by Lin Hui Bin (林揮斌)… but I'm unsure if he did the light painting or just put together the video.
I always have such respect for people that light-paint in Chinese characters or Arabic. Haven't run into people using Devanagari or Sanskrit or any other non-Roman script, though, that'd be really interesting.
Paraphrasing this different…
小时候,爸爸说《睡不着的时候就看看天空找到最亮的那颗星星,魔法师就会送你一个美梦》。睡梦中,我知道魔法师带着爸爸回来了。

When I was little, dad used to say, "when you can't sleep, just look to the sky. Find the brightest star, and the magician will grant you a beautiful dream." In the dream, I know the magician will bring my father back.
Father's day is coming up soon, and all the promotion has made it a difficult start of the month. This is the latest song to make me cry.
Sridevi's lovely crowd-pleasing English Vinglish is going to Japan [Trailer, if you don't believe me], and for a moment there I thought they might actually super-dub it [1] but no~ Japan is getting it subbed after 3 Idiots got a nod for Best Foreign Film in the last edition of the Japanese Academy Awards. For promotions of the film, they want to use this image of her 1993 film Roop Ki Rani Choron Ka Raja: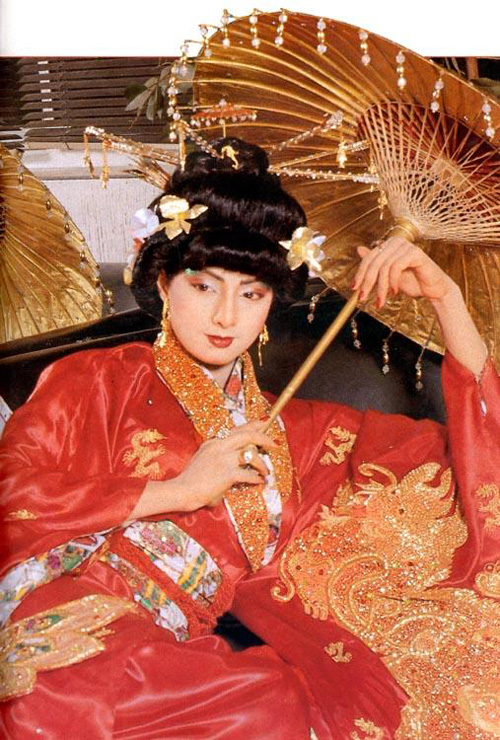 OH~ GODDDDDDDD
And it's serious too- like, they totally mean to promote EV with Sridevi in yellow-face without a hint of irony. I wonder what Japanese people would think other than "oh, these silly foreigners," I don't know who the audience for the film is in Japan, somehow I don't picture Japanese housewives going to watch a non-Japanese non-Hollywood (ft. Depp or DiCaprio or Pitt or Cruise) flick with subtitles, but maybe I'm underestimating them.
For casual watchers of "this is Chinese/Japanese/Korean" arguments online or real life, Sridevi's attire though wanting to be Japanese is obviously more Chinese-inspired, like Disney's Mulan's match-making attire wanting to be Chinese but obviously Japanese-inspired.