Archives For yu aoi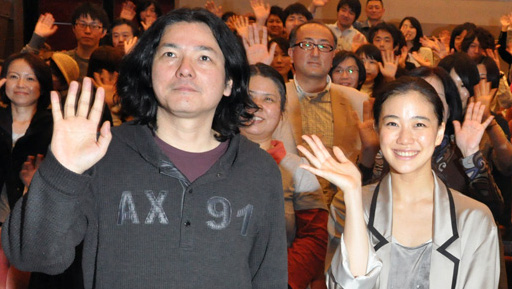 Oh hoh… teasing photo for those who wanted Shunji Iwai + Yu Aoi back together. xD
I told you there were a few posts…
Anyway, did any of you watched Ryomaden last season? I did try to watch it at the beginning but wasn't that into it, so it was really troublesome to gather the energy to find a subtitled version of it. Plus, there weren't any small files, and I didn't feel like download HD versions.
So I watched on TV with no subs.
Until the very last episode that Yu was on… and then till the very last of the year.
I remember that when I saw the preview of episode 44 with Yu's character Omoto saying goodbye, I thought to myself — well, what bad number of episode to leave the show xD and it ended up being her 13th guest appearance — pretty sure about that.
Anyway, for those who didn't watch the show — Yu played Omoto, a geisha who's a closeted Christian (oh, the irony!). She plays the shamisen, does some traditional dancing and performing, and has some non-explored sexual tension with Ryoma. She was good in it, but I understand that Taiga dramas are a long-term commitment.
Here's the capture of the interview with photos for those of you who won't touch a Taiga with a stick xD
As you probably know… or didn't – Yu's latest play with Satoshi Tsumabuki, Minami he, opened in Tokyo… had some dates postponed (at least) due to the Earthquake, and I think it's safe to say that it's done with its running.
There were interesting thoughts on it – hint: only read one review, which you can check by going through the Minami tag – and I ran into this poster for it, which is the closest some of us got to this play xD
Hmm, I had planned a batch of Yu Aoi related posts that meant something, but I couldn't find the photographer's name for this photoshoot. And I even tried different ways… like her name + journal standard + photographer in English and Japanese, and ended up in Chinese websites xD
Did I tell you that my last Chinese lesson was professions? LOL
Anyway, this special project was a collaboration between Journal Standard and Yu Aoi for last December.