Archives For utada hikaru
Well, this is priceless.
From Top row, L:R.-
(1) Kou Shibasaki, Megumi Yasu, Hikaru Utada, Manami Konishi, Yuka, Yu Kashi
(2) Ai Kato, Aya Hirayama, Kyoko Hasegawa, Masami Nagasawa, Juri Ueno, Yu Aoi
(3) Yu Yamada, Nana Eikura, Kaori Manabe, Aya Ueto, Eriko Sato, Satoshi Tsumabuki
(4) Akiko Yada, Erika Toda, Mayuko Iwasa, Kyoko Fukada, Yukie Nakama, Yui Aragaki
(5) Ryoko Hirosue, Saki Aibu, Ayumi Hamasaki, Misaki Ito, Misako Yasuda, Karina
(6) Kie Kitano, Mimula, Mao Inoue, Mika Nakashima, Minako Nakano, Saeko
(7) Rosa Kato, Koyuki, Becky, Yoshio Kojima, Aya Matsuura, Hiroshi Tamaki
(8) Maki Horikita, Takako Matsu, Miwa Asao, Rena Tanaka, Haruka Ayase, Aoi Miyazaki
(9) Chinatsu Wakatsuki, Yuri Ebihara, Mikako Tabe, Kaela Kimura, Akihiro Miwa, Suzanne
(10) Shoko Nakagawa, Erika Sawajiri, Waka Inoue, Yuko Ogura, Miho Shiraishi, Eiko Koike
(11) Akina Minami, Otoha, Aki Hoshino, Marie, Rie Tomosaka, Mari Sekine
(12) Masaharu Fukuyama, Maya Kobayashi, Ryoko Shinohara, Taichi Kokubun, Shun Oguri, Kaori Mochida
(13) Mokomichi Hayami, Yumi Yoshimura, YUI, Nanako Matsushima, Ai Ohtsuka, Aya Takashima.
via 2ch.
To keep things interesting, I've decided to switch to the newest songs that made the best 100 songs of the decade. Just the heads up, it turned out to be very Asian. Is it trying to tell you something?
One of those examples was the Welcome to Beijing song, which had a HUGE bunch of Asian (mostly Chinese, Taiwan and Hong Kong) stars. The scale of the project is probably similar to (or even bigger than) Michael Jackson's We Are the World song… which in its time was epic. To me, and to many Asian (and non-Asian) people who keep track of the Asian music industry it marked an important time. Not only did the Olympics opened China to the world… and the world to China, but it also felt like a huge switch on everything from basic economics, industry… and entertainment.
It's as if Chinese musicians had been enclosed all those years while the economy started to pick up, and have exploded with a huge fireball of creativity. It's amazing at the amount of talent coming out from there, especially now that they can upload their music through the many Chinese music websites like douban.com and haoting.com, and the amount of blogs and communities that are reporting on them.
Some really awesome music, which I have already blog in this place. This is the reason, I want to get over these ones first, before I post many other songs from 2002-2006 when I didn't blog that much (or at all).
and it's cleaned up its image…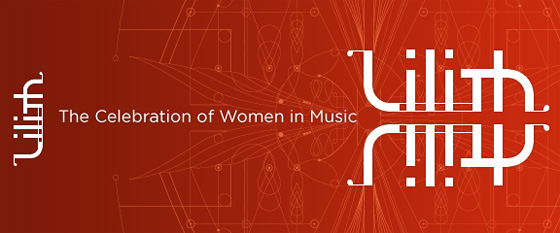 Coz that totally doesn't mean "hippie chick"
Lilith Fair will be back with shows with a kind of a nice variety of music from Chantal Kreviazuk, Colbie Caillat, Corinne Bailey Rae, Emmylou Harris, Erykah Badu, Indigo Girls, Ingrid Michaelson, Jill Scott, Mary J. Blige, Sara Bareilles, Sarah McLachlan,  Sheryl Crow, Sugarland, Tegan and Sara, Ximena Sariñana.
Yup, that's right. Ximena Sariñana from Mexico.
That's pretty cool. Now if only they'd get Regina Spektor, The Sounds, CSS, The Ting Tings, St. Vincent (though I think she was against Lilith Fair),  Marit Larsen, how about some more foreign performers? Loads of Asian female performers… Salyu, Cheer Chen… Faye Wong (yeah, right! I heard she's coming back on tour next year though!), Utada Hikaru xD
More info over at the Lilith Fair website.
I'm also preparing for 2009, though to be honest~~~ I've noticed that I don't have many 2009 albums – so we'll see how that goes. I've chosen Top15 Songs of 2008 excluding Soundtracks, except for my #1 for sentimental reasons.
No, really. Continue Reading…
I can't remember the last time I did a music backup, and that's a bit worrying… but not as worrying as the last time I made a backup of everything else. That's another scary subject. I'm here to show you how neat is my iTunes library~~~
See? Neat~~~ almost everything with a cover, but that's because I ripped that from a YouTube video, which is lame… but I couldn't find a proper mp3 of Sedated by the Young @ Heart Chorus. Do you know where can I get it?
Then… circled albums are the ones I don't own, and want to buy physically… the ones marked with a "2" means I would be thinking of getting them physically as well. I really, really have fallen in love with the Hana & Alice OST, it goes with liking the film more and more.
The rest, as you can see is filled with Chris Lee, Coeur de Pirate, David Tao, Dirty Projectors, Green Day, The Sounds, St. Vincent, La Patere Rose etc etc… Shiina Ringo, Seo Taiji. When is Seo Taiji's 8th album coming out??? I've been waiting for it since October last year – I remember because I was complaning too many albums coming on Oct/Nov.
Remember that VH1 segment where women sang? You know, that one show that gathered Gloria Stefan, Mariah Carey, Shania Twain… etc, etc~~ Sorry, I'm a little weak in the mind right now. xD
Well, Divas' is making a comeback~~
Look, I get Divas~ I love talented women… Sophia Loren to me is a legend, whom we could call Diva, I guess~ How about calling the show Legends? LOL, Let's face it! Divas is now synonym with bitch, hard to work with, and high maintenance.
Anyway~~~ I have issues with VH1's announcement. First, "Pop, R&B, and hip-hop" – Heck? How about country music? How about rock? Then, VH1 is also asking listeners to pitch in. Let's face that too! That's rubbish. *sighs* Why? Britney Spears and Lady Gaga are being suggested! What the…
Who would you suggest? I dunno, howz about a duet by Joan Jett and Reba McEntire… or~~~ hmm… Regina Spektor with Pink? Woah, bizarre. I'd better quit thinking of duets. xD Just naming people~~ Alicia Keys, Christina Aguilera, Alanis, Alison Krauss, Amanda Palmer, Adele, Emily Loizeau… Bjork? xD
How about mixing music!?!?! Shiina Ringo!!! Or okay… Utada Hikaru… Faye Wong!!! Andrea Echeverri! Bibi Chow? Salyu!!!
ZOMG! A duet between Marit Larsen and Regina Spektor? I'd die~~~
Or one with Bjork and Salyu??? Alanis with Shiina? Amanda Palmer with Andrea Echeverri? Adele with Bibi Chow? Utada Hikaru with Christina? Faye Wong with… Loizeau?? Faye Wong with Bjork?? Utada with Keys? LOL