Ahh… I hope I can finish this post in less than 30min. LOL Or sure I'll be whining with the people at Anomalous Material for posting so many Memes xD
But we're lazy, so we're doing a 31-day Meme into one post. Just like we did on the TV Meme… only with more pictures! Because I think that TV Meme needs photos, right?
1. A Sequel that Shouldn't Have Been Made
You know there should be something wrong when all the sequels went straight to DVD. That's a sad sad ending for a good cheesy film like Bring it On. The sequels bring so much shame when mentioning Bring it On, which by the way had Kirsten Dunst and Eliza Dushku… and Gabrielle Union. And cheers. I said Brrrr it's cold in here! There must be some Clovers in the atmosphere~~~ LOL a perfect introduction to setup what the cheese will be about, and a more poppy-end-of-the 90s-rendition of Hey, Mickey!
2. A Movie More People Should See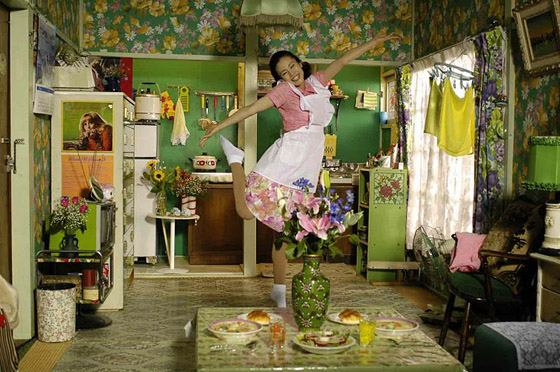 Memories of Matsuko (aka. Kiraware Matsuko no Issho), directed by Tetsuya Nakashima. I saw this by chance about 2 years ago, and it's climbed up to my #3 spot of favorite films. xD It's like a fusion of Sin City with Amelie — yeah, if that could happen — and with Moulin Rouge!. There's loads of style, loads of music, loads of drama. Big Band goes Cabaret, with Hip Hop, and slow jams. There's a bit with animation, and very Disney-esque sequences but on LSD. Yup, that's how I always describe Nakashima's film-making style.
3. Favorite Oscar-nominated Movie from the Most Recent Ballot
Ahhhhh. I'm having conflicts. xD But since Castor already said Inglourious Basterds, I'll pick District 9.
4. A Movie that Makes You Laugh Every Time
The Sweetest Thing. Ah… I just had a laugh looking for clips to post. xD
Talk about I Don't Wanna Miss a Thing ubiquity.
5. A Movie You Loathe
Knocked Up. Ugh. And all those films like Bruno, Borat, Superbad, and all the comedies that seem to do really well in America. My cousins and I just don't get them. My family keeps referring to them as "American Humor". And LOL, my French teacher hated it more. xD