Archives For tony leung
I've got some pretty nice recommendations to share.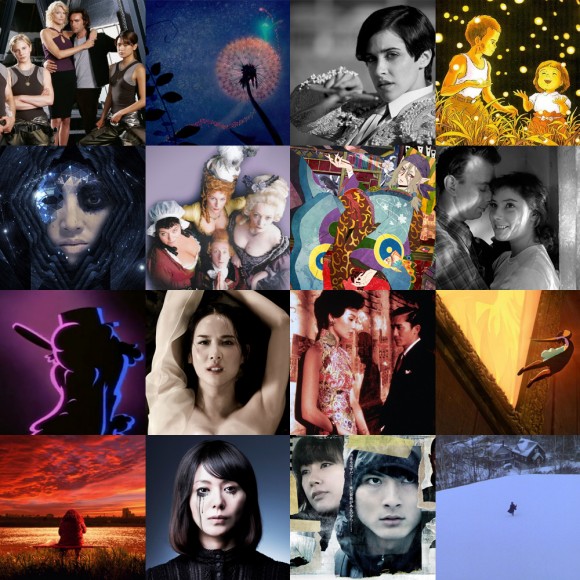 After some flame from their compilation of 135 Shots That Will Restore Your Faith in Cinema [1], Flavorwire is back with a new compilation~~~ this time around focusing on faces, their emotions and their beauty… to relative success. I don't think I could fault them… I had enough with Wong Kar Wai (included multiple times), multiple Zhang Yimou shots (and a double appearance of Gong Li to boot!), there was Park Chan Wook, Guillermo del Toro, Leslie Cheung's face.
It was a thing of beauty.
The only face I could possibly suggest would have been Greta Garbo's last shot on Queen Christina, but I'm content.
If you follow Tony Leung's career… or the Chinese movie scene in general, you'd know there's a movie coming up called The Silent War (聽風者 or 听风者) — actually, it has just come out — featuring Leung alongside Zhou Xun and Mavis Fan (these two are in everything together??) xD.
Anyway, BiBi was at the movie's premiere~
And she sang the theme of Infernal Affairs [MV] in Mandarin 'coz Tony is there. xD
She did good :) She's been sounding good lately despite audio problems generally found in CCTV broadcasts. Seriously, it's like… no matter how good a singer you are, all CCTV performances sound like crap. Not even Leehom or Faye Wong can escape.
Also, Mavis is the only one truly enjoying the performance. xD
And Tony Leung's left side looks super old compared to his right side.
I literally burst out laughing when I saw this on the DVD
It's supposed to be a deleted scene from In the Mood for Love — understandable considering it totally kills that moody setting throughout the whole thing. But the part of me that laughed heartly would have loved it included…