Sharing this on the YAM 2011 LGBT Blogathon~
—
I love complicated post titles.
AfterElton has just begun their voting for their 2010 poll of 50 Greatest Gay Movies. Plus, in honor of the first week run of Contracorriente (Undertow) on Peruvian cinemas, I've made a list of 10 LGBT related films that not many people may have heard about or seen… so these films need your voting. *cough*
And since AfterEllen is dropping the ball on this one — I was pretty sure they were doing polls on Lesbian movies, but oh well~
I am mixing it all up. Because I'm like that.
Look, I love Brokeback Mountain, I love Milk, and I certainly LOVED A Single Man last year. Some of my favorites are Were the World Mine, Show Me Love, Imagine Me & You, and I liked Love Songs as much as — or maybe even more — than you did, but this is about not so popular LGBT flare. There's also a lot of foreign films because they certainly don't get major distribution – so thank you, Internet.
Also, don't forget to vote for Undertow! xD
10. Sud Pralad (Tropical Malady)
I gotta be honest here, Tropical Malady was just a little too art house [hint: too much silence] for me, but that's not to say that people haven't enjoyed it. I was very recommended this Thai film, and even if I didn't blow me away the way I was told… it's definitely one you should take into consideration when making your list of Greatest Gay Films.
9. Huhwihaji Anha (No Regret)
Don't let the poster fool you! This certainly isn't your happy film, it's got a grim story and crude reality, but this Korean film is still a good one. It's definitely got great acting. Ahhh you American Marketing and your way to sell foreign dramas as light entertainment…
8. Naissance des Pieuvres (Water Lilies)
Hi, teen drama? You know, if you liked Show Me Love — you know, that awesome Swedish rom-com that had a totally cool title like Fucking Åmål but was changed because people can't see the word fucking on their rental stores? — well, this is nothing like that. This is not sweet, this is not funny… this is teen angst. xD
7. Puccini for Beginners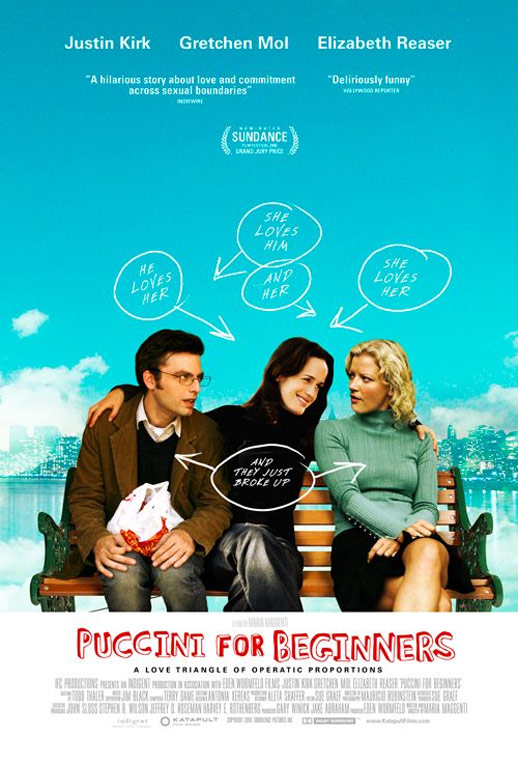 Of course everyone loves Imagine Me & You, but this one is a little bit more messy. It has Elisabeth Reaser playing Allegra being too into Puccini opera, and to afraid to say the L-word to her then girlfriend. Said girl breaks it off, and Allegra starts dating another woman… and another man – who happen to be exes. Yup, that can't get ugly, right?
Ah… Elizabeth Reaser, right? Such a player~ xD
6. Hudie (Butterfly)
Butterfly is all about the drama too. A 30-something woman stuck in a marriage, whose chance encounter with a lively [hint: seductive] singer will revive that spark inside… and remind her of her old adolescent lesbian flame. You know what that means, right? Waking up from the slumber always takes something down… ahhh, drama.
5. Breakfast on Pluto
Cillian Murphy is awesome, right? Neil Jordan as director, Liam Neeson, Brendan Gleeson, and Stephen Rhea… I remember this being on theaters… for a short while. Why won't people love it? O.O
4. TOPPURESU (Topless)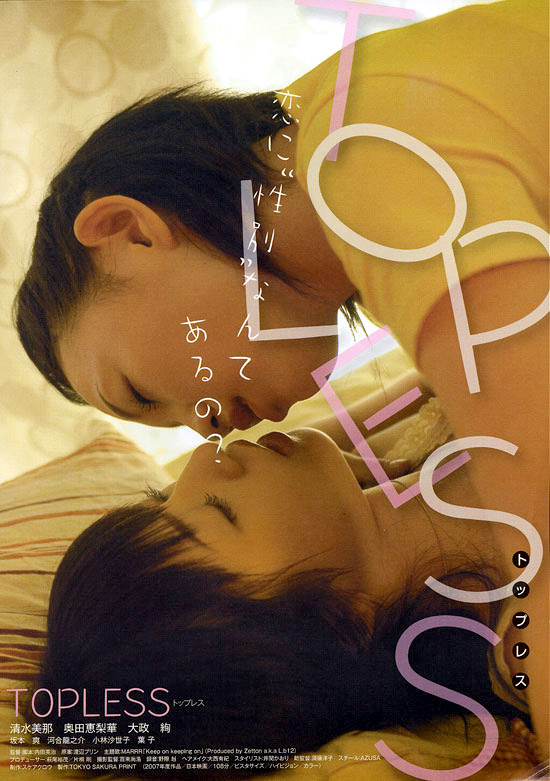 Okay, this is a title difficult to find… because if you try to type Topless – well, let's just say… it doesn't work so well. You're probably going to have to type TOPPURESU to find it. Topless… surprisingly, doesn't have any topless scene. It barely has any sex in it, which in my book is alright. In here, Natsuko — which means daughter of summer — has ended a longterm relationship with a woman who is now planning to marry a man. Natsuko's world is crumbling down, her male roommate is struggling with his feelings for her, and a mystery young lady arrives in the city looking for her mother.
3. Miao Miao
Okay, out of all the films I have listed, Miao Miao is probably the happiest of them all. However, the film still holds that tinge of drama — because I love drama. And I'm gonna cheat here because I'm lazy~ Plus, bonus! This is Gay and Lesbian xD
18-year-old Ai loves baking, even if she's not that good at it. She dreams of some day baking the perfect pastry, until she meets Miao Miao, a shy exchange student from Japan, who happens to be sort of a pastry expert.

With pastry baking comes love, and soon Miao Miao discovers herself interested in a guy owner of a record store, which used to be a cake shop. Little by little, Miao Miao spends more time at the record store than baking with Ai, while Ai realizes her relationship with her might be more than friendship.
2. Chun Gwong Cha Sit (Happy Together)
Can I just say Wong Kar Wai, plus Leslie Cheung (RIP) and Tony Leung is a win-win? And once again… drama ensues! And if the drama is set in Argentina… the drama multiplies! Buahaha xD
1. Ba Wang Bie Ji (Farewell my Concubine)
Because Leslie Cheung in the greatest. And the film is as dramatic as a Chinese film could be. Has any of you noticed that? Chinese films are very Telenovela. I mean, have you seen Raise the Red Lantern? Farewell my Concubine also won the Palm d'Or in Cannes… and it sparked my acceptance of Chinese Opera, which I couldn't stand before. Now? I'm so used to it, I listen to it whenever I catch some on CCTV.
Tada! What do you think? Any other films?
And of course I made a list on MUBI, you got an account? Be a fan of the list~