Archives For Motion
Woah <3 but, man, licensing issues~
Look at that trippy animation~
I think there might have been an extra coma on the YT subs, that I may have put on my screencap, but whatever.
Feelings. Feelings were had. Maybe not the song as a whole, I still think World Without Tears (沒有眼淚的世界) [LV] is much more interesting musically, but the music video for Dearest (親愛的) [MV] by Chen Hung-i (陈宏一) totally sells it. I cried so much, I've been crying quite easy these past couple of days. Hwasa made me cry with her short version of Lee Moon Se's (이문세) Whistle (휘파람). Then this, and now Leehom.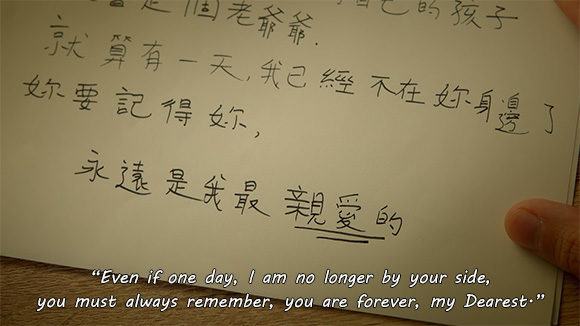 Dearest, you will forever be Baba's baby.
A kiss on your cheek, so you sleep well through the night.
Dearest, no matter how long the road,
my love will be with you because
you are forever my Dearest.
我很想你,爸爸~
I don't know what is it about Laika, but Kubo was the second Laika film that I enjoyed the Spanish Latino dubbing more than the original English track. Not that the original Boxtrolls dialog lacked anything, but the Spanish Latino is funnier to me. When re-watching on Bluray, I would choose the dubs over the original audios in both. In Kubo, it had a lot more to do with the fact that Charlize Theron's voice as the mother and Monkey spoiled the bit of the story, which I suppose was a huge reveal.
With dubbed voices, the identity of the voice is a lot foggier, so it comes as a greater surprise (unless the dubbing had chosen a recognizable voice to sell the project).
I was eagerly waiting for Kubo to open in Japan (just like I watched Los Fantasmas de Goya in Castillian Spanish xDDDD), and since it was taking so long, I was wondering if it was ever going to be released there since Laika hasn't been making much money there and Boxtrolls didn't even open.
I was super disappointed when the first trailer for KUBO クボ 二本の弦の秘密 dropped, but it was subtitled. LOL It's about three weeks to opening date on Nov.18, and this first clip of the dubbing came out. It features Pierre Taki in McConaughey's place (the Bettle), alongside Rina Kawaei in Mara's role of the Sisters, Akiko Yajima (whom I think is doing the voice of Kubo xD), Atsuko Tanaka (as, I suppose, Monkey), and Michio Hazama (as, I suppose, the Moon King).
Laika could totally release a collector's edition with this audio track included.
Bless their hearts.
Mamamoo and being a Moomoo has made me realize that I should be a better fan to my idols, so I've been reconnecting with my Everlasting roots. Bless Brown Eyed Girls, bless JeA, bless Miryo, bless Narsha and bless GaIn. They were my original favorites back when I got into Kpop, but never had enough to really get into them. I swear, if there was a MamamooTrans version of BEG back then, I would totally be a hardcore Everlasting.
BEG are so SO funny, I've been recently watching their Mepsi appearance, and I don't even have an interest in makeup or actually get half the show since it's a mix of Korean with Chinese subs, and my makeup-beauty Chinese vocabulary is poor. LOL I caught a glimpse of them learning Mandarin and I couldn't resist, though. I'm usually a JeA racoon-leader stan [1][2], but I've gotten acquainted with my new-found love for Miryo. I really lost it when she try telling her model that she'd be doing her eye makeup, but came out as "Wo EYE Ni" xD
Then there was their presentation on Weekly Idol, of course. Weekly Idol was one of the shows that got me into Mamamoo as well, and I remember watching BEG's and finding it hilarious. They can be so much alike in their Random Play, but also comically true Adult-dols, especially JeA and Narsha asking for Red Ginseng and Oriental Raisin Water xDDDDDDD
Of course I'm still hung up on the perfection that was Sixth Sense, I do not regret buying the regular version AND the collector repackage. It's really my most precious BEG possession.
Also! Request for having a show with Mamamoo or BEG where they learn a language. There's actually several shows on NHK where idols/actors learn French, Spanish and Chinese (and various English language shows), so this can totally be a concept.