Archives For big vocal chops
… at this rate, I'll add their tag before I travel xD
GIFs after the break~
It's been just a few months since I seriously started listening to MAMAMOO, and they've just won me completely over with the release of Melting, their personalities, talent and just pure swag. Oh gosh, these girls are hilarious, just the fact that they've released a sped-up version of one of their singles for the giggles. It's super cute. AND THOSE VOICES.
Funny fact, I was checking my Facebook post history to see when I started posting about them… and it turns out I did post about their debut back in June 2014 when it first showed up on my YouTube timeline because I used to call my friend (who's older than me) Mamamoo. LOL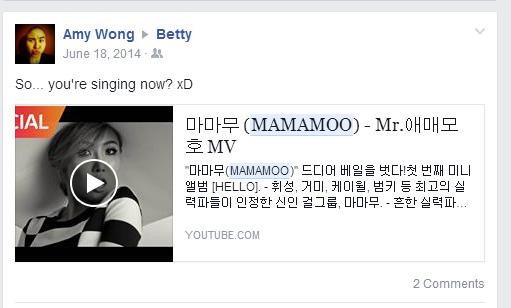 So I'm psyched they won their first Inkigayo, and they really really had the feels because it means something when an artist/group signed to NOT one of the big labels win a popularity contest against others who are part of big labels.
They all come to me~ xD
Bjork, Miyavi, Big Bang, JeA~ Too bad I don't have my dad to be my music companion :( He would've loved seeing Laura Marling in a cozy musical setting. He was that kind of person. We would also be waiting for Adele, Shiina Ringo and Faye Wong. lol
I really really enjoyed many of the performances in this year's Spring Gala, which included a dance rendition of a Mo Li Hua (茉莉花) instrumental, the suspended dude on a mast on top of a digital display of the ocean (直挂云帆), and the Drum Dance in Prosperity Xi'an Terracotta Army, The Silk Road (丝绸之路), The Beauty of China (山水中国美). Also, my biases Zhao Wei and Sa Dingding (doing the Good Luck Song (吉祥吉祥)) were there! Donnie Yen showed up too! Dude! I even enjoyed the super Red Song, My Homeland (我的祖国), which was performed by Wang Li (王莉), Wang Qing Shuang (王庆爽), You Hong Fei (尤泓婓), Jin Ting Ting (金婷婷) and a special appearance by opera soprano Guo Lanying (郭兰英).
I also enjoyed the Inner Mongolia [1][2][3] and minorities medley In the Great Embrace of your Hometown (在你伟大的怀抱里) numbers xD In turn into a bit of a Red Song somewhere there by the end, but it wasn't even the Reddest song of the night. LOL But I enjoyed it.
Tan Wei Wei's (谭维维) number, though, featuring Zhang Ximin (张喜民) and Huayin Lao Qiang performers ("华阴老腔"演员) floored me. So much damn fun and energy. I loved it. The song was presented under the titled "the Huayin old tune in high tone shout" (华阴老腔一声喊, huayin lao qiang yi sheng han). It also teaches us all about Huayin Lao Qiang (Huayin Old Style "Chinese Rock'n'Roll)!