Archives For mia wasikowska
I've got some pretty nice recommendations to share.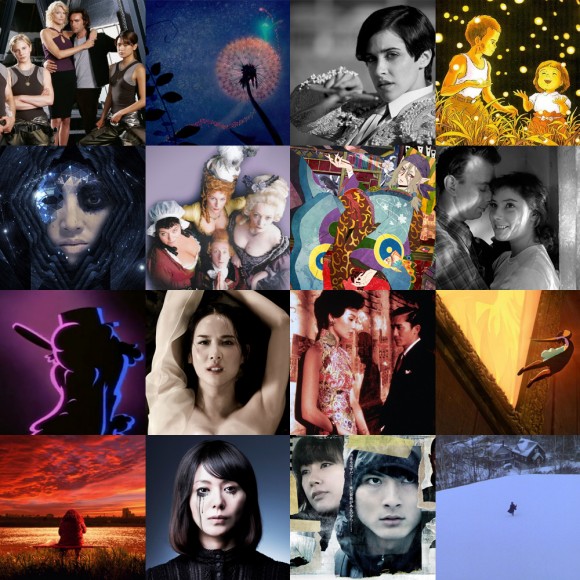 Hmph! Have you seen this video of the international poster for Park Chan-wook's English-debut, Stoker? I mean, it's not enough that it's Park Chan-wook, but it's also got Nicole Kidman and Mia Wasikowska, with a bunch of other good people. There's this poster~~~
With the trailer edited with the making of the poster, weaving in and giving links to bits and pieces of the story, all layered on top with Emily Wells' Becomes the Color. Any ideas on who designed/illustrated this?
*EDIT*
Gonna share this on the 2011 YAM Blogathon
—
Let's see, I missed posting yesterday! Coding is such a mess~ Please, if you know anything about WordPress plugins, programing, and crazy coding talk – HELP ME!
Anyway, to clear my head from that problem, I was having a debate on whether or not The Kids Are All Right is anti-male or not. The participants? The Film Snob (snobbyfilmguy), Kevin Ketchum (KevinnK), Johnny Splash aka. filmcave, Benjamin Vargas aka. bensower, and MovieBungalow.
When the film first came out, a lot of the critics and bloggers were singing praise left and right. TKAAR is my flare, light drama with bits of comedy. Plus, it's got Julianne Moore and Mark Ruffalo, of course I was going to watch it. However, with positive feedback, there's also the few that can't help but feel disappointed… or outraged.
While reading IMDb (battle zone!!), and some comments on AfterEllen.com, you could find lesbians saying the film is "anti-lesbian" because no way Julianne Moore's character would sleep with a man, saying that it makes it seem like lesbians can't live without c*ck – their words not mine.
That's like saying Imagine Me & You is "anti-heterosexual" because no way Piper Perabo's character would go for a woman. Hmmmmmkay.
Let's start with the basics. The Kids Are All Right is the story of a lesbian couple that's going through a rough patch. Nic (Bening) is a doctor that's spending more time tending to her patients, than her wife Jules (Moore) who's a stay-at-home mom, whose string of career switches fill her with insecurities.
After years of marriage (ten?), they've got two kids, almost-18-year-old Joni (Wasikowska) mothered by Nic, and 15-year-old (16?) Laser (Hutcherson) mothered by Jules. They seem you're average white upper-middle class family with no kids problems, no money issues. Since Joni is about to turn 18, her brother asks her to contact their sperm-donor father — Enters Paul (Ruffalo), and all hell breaks loose.
WARNING: LOTS OF SPOILERS~~~
How did I miss this photoshoot? And this is one more reason why Mi Wasikowska is not so Mori Girl — this Sunday Magazine photoshoot by Georges Antoni. Wasikowska looks so fierce with short hair O_O
Anyway… here we go!
Continue Reading…
OMG, pretty haircut~
Continuing with my thing of mixing the East with the West~~~ I was watching That Evening Sun because I had been inclined to watch anything that I saw had Wasikowska's name in the credits – except for In Treatment because that's just way too many hours…
We spotted her when we saw I Love Sarah Jane last year — though we haven't spotted anyone in a long time — we've followed her career closely. Unlike many people, I did like her a lot as Alice… as a girly girl that I can be, I got giddy watching Alice… and Wasikowska has struck me as a Mori Girl.
The general definition would be a "a girl who seems to be/live in a forest", describing a girl who would fit more into a forest rather than into a city.

"She has to like fashion that's natural, but also a bit quirky" or "She wears a lot of dresses that have a loose or comfortable feeling to them", to name a few of the opinions. The difficulty is that the girl should like "natural clothes"
And Wasikowska, each time I see her on screen and/or carpets… she strikes me as this dreamy soft-spoken girl. I can imagine her living as a fairy in the forest. LOL I was going to prepare a whole speech on how she's a Mori Girl, but then I go on research and find ass-kicker photoshoots, which I'll be posting later on. However, despite those high fashion chic photos… she's still kind of a Mori Girl, right?
Picspam after the break!