Forgive the shameless reminder of Spice Girls. xD
I just got back from watching Alice in Wonderland~~
And how about it? TheAuteurs is showing a short film version of Alice in Wonderland done on 1903, if you would like to watch it (for FREE) just head over there. You will need an account.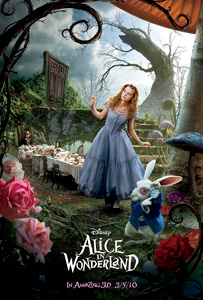 Burton's version of Alice in Wonderland tells the story of 19-year-old Alice (Mia Wasikowska) visiting Wonderland (or Underland, as they refer to it in the film) for the second time to liberate its people from the evil (but admittedly hilarious) Red Queen (Helena Bonham Carter). Alice is joined by her revolutionary allies, the bipolar Mad Hatter (Johnny Depp), the White Rabbit (voice of Michael Sheen), the freakish twins Tweedledee and Tweedledum (voice of Matt Lucas), the even freakier Cheshire Cat (voice of Stephen Fry) and all the other creatures that try to pull a coup in favor of the hippie-ish White Queen (Anne Hathaway).
What is more rocking than Burton's style, who has taken the book's illustrations and given it his own? Well, how about a rocking Mia Wasikowska in full-body knight armor battling a monster? Admit it, chicks don't often get to slay anything – Miranda Otto (Eowyn on Lord of the Rings) comes to mind – and if they do get to slay things, they also get to be overly sexual or in love with someone, which Alice isn't. Also, Disney doesn't get a perfect record on the image they give girls, so having a heroine that is rocking without being exploitative is good on my books. I mean, Mulan comes to mind, but she did end up getting together with Shang and saying "no" to a once in a lifetime opportunity to work for the Emperor.
Feminism and Girl Power aside, Alice is filled with sincerely funny and scary moments, a lot of dark humor, and vibrant visuals to spare. Burton decides to take his human characters – that is Depp, Carter and Hathaway… or if you need a reminder, Wasikowska – and put them front and center instead of making his mostly-CG characters the center of attention, proving that you still need to bring good actors to get good performances.
As far as the 3D work on the film, it definitely could have been better. I would have liked a lot more POV shots while on Wonderland, for it to be a more immersive experience. As it stands now, the film is a good watch in both 3D or 2D, which is bad considering the extra money. However, there were parts that worked a lot better if you thought of it as a pop-up book instead. A few of the scenes that stand out were the fall down the rabbit-hole, which includes a very brief but very effective POV shot of Alice (or us) falling, the scenes in the forest, and the final battle on the chessboard.
Someone needs to make a chess set of that, with the Red Queen and the Knave of Hearts as king and queen of the red pieces, and the White Queen with Alice as king and queen of the white pieces.
All in all, Alice might be an off-beat choice of family film, because it IS supposed to be Disney, but it's a welcomed choice nonetheless where young girls get to save the day and follow the rhythm of their own beat, as cheesy as that sounds. 3.75/5