Only ONE spot missing! On the #4 spot is Evan Rachel Wood~~~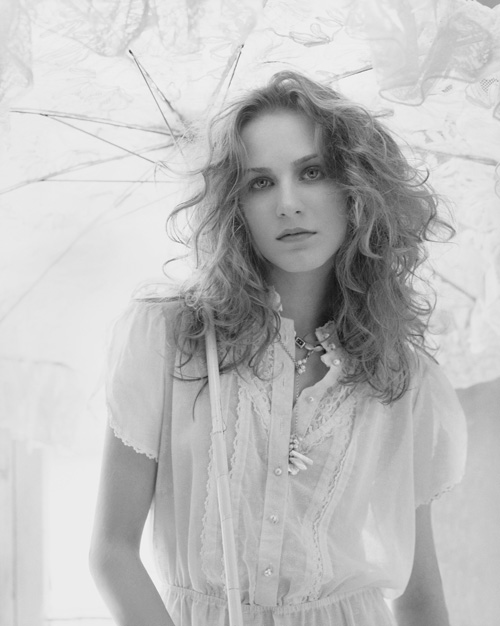 Back in 2002 and 2003… and maybe half of 2004, I was the hugest Evan Rachel Wood fan on this side of the world. I mean, I used to watch every weekend Sony's reruns of Once & Again, so when I moved to Canada and saw that I would be able to watch Thirteen at the cinemas, I was thrilled. I probably should still have my used ticket somewhere.
Anyway, after Thirteen came and went, Wood began to be cast oftentimes as the Lolita of the films she chose to make. They weren't bad films, but her choice of roles seemed to be getting boring. Down in the Valley (with Edward Norton) wasn't a bad film, but it was a pretty average role of the young girl that sleeps with the older guy and stuff happens. Then came Running with Scissors (directed by Ryan Murphy, and working alongside Annette Bening, Alec Baldwin and Gwyneth Paltrow) which wasn't really a bad film either.
It wasn't until King of California (with Michael Douglas) came out that I started to pay attention again. That was followed by The Life Before her Eyes (with Uma Thurman, directed by Vadim Perelman of House of Sand and Fog fame), and eventually ended up working as Lucy on the dramedy/musical Across the Universe. I'm pretty much sold right there and then~
Last year, she showed up on a bit of The Wrestler, so any Aronofsky film on anyone's filmography is cool on my books, and then showed up on Woody Allen's Whatever Works with a pretty hilarious southern accent. She is currently working as an over-sexed (most likely) vampire lady on the HBO True Blood with fellow actress Anna Paquin.
Next up for Wood, The Conspirator directed by Robert Redford with James McAvoy, Robin Wright Penn, Kevin Kline, Tom Wilkinson and Alexis Bledel. Worth to keep an eye on her ;P