HMV JP takes top marks on shipping.
It only took 2 days! TWO days for my order to arrive~~~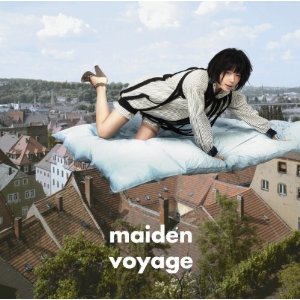 It took Salyu 3 years to release her 3rd studio album, but it's not like we were deprived of new music. In fact, Maiden Voyage contains many of the singles that Salyu had release these past years [6, if I count correctly]. You could say this could be a compilation of sorts, but it surprisingly works nicely as an album.
The album art gives you the visuals of flying… almost in a dream-like fashion — I mean, Salyu IS floating on a mattress and/or pillows, right? These visuals work really well with the overall themes and overall energy of the songs (yes, I actually grabbed the song book and followed the bouncing ball).
It also looks like Salyu is experimenting with her own music by finally stepping onto the writers chair, and even working on the music herself. Of course, she's not doing it alone but with the help of Takeshi Kobayashi who has been there since the days of Lily Chou Chou. The collaborations between Kobayashi and Salyu are what we have come to get used to as far as Salyu's sound is.
Interestingly enough, Salyu's song (written and composed as least with the help of Tatsuya Kokufu) L.A.F.S (which stands for Love at First Sight) reminded me a little bit of what Salyu used to sound as Lily. Somewhat off-beat melodies, with really simple lyrics, but really moody.
Overall, the album really flows well and feels like a whole, except maybe for the oddball BIRTHDAY, which threw me off… in a really good way. The song, written by Salyu and composed again by Kokufu, sounded like Shiina Ringo and Bjork had a lovechild, if that were EVER possible.
I've taken to Salyu's music because it's soothing, as well as quite slow and easier to follow with a songbook. Salyu is really quite good to practice your reading and pronunciation. However on BIRTHDAY, she slurs her words and sounds completely different. I'm looking forward to more of that sound in the future. Hopefully.
As for the concert DVD. Well, it's totally worth the price you pay for this limited edition with DVD
~
Screencap galore after the break~
The concert features 26 songs… running around 2.40hrs, it includes a few songs from the All About Lily Chou Chou album, which are magic to listen to. As well as songs from "landmark," and "Terminal".
Video quality and sound are good, despite some blurriness and graininess at the beginning.