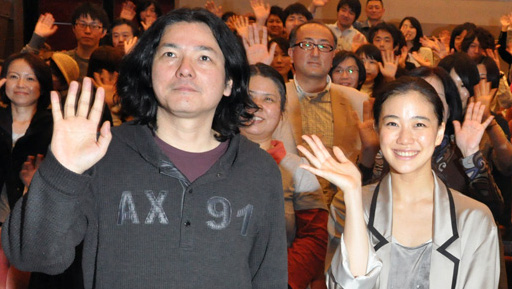 Oh hoh… teasing photo for those who wanted Shunji Iwai + Yu Aoi back together. xD
Nihon Eiga was celebrating the 500th movie broadcast/projection, so they decided to run All About Lily Chou Chou… which turns ten years old this year. Yup: Yu-chan debuted ten years ago… Salyu's been on the market for ten years… and you can feel old now.
Cinema Cafe has a write up of the event and talks briefly about Vampire (teasing), as well as Shunji's work on New York I Love You.
As you may or not know, Shunji Iwai was born and raised in Sendai, in Miyagi prefecture, so he's been deeply affected by last month's Japan tragedy — which made him skip the Hong Kong Film Fest for the screening of Vampire, All About Lily Chou Chou, and April Story.
—
Also, in other news… the cast members of the film Hula Girls donated 10M Yen (like $100k) to Iwaki, which has been affected by the radioactive crisis.
I think that's all I've got from news…
Here's a couple pics xD
Is there's someone who can skim through the Cinema Cafe article for important info?