LOL' No, they are not in Lima, but I have just gotten my Yesasia order, which rocks my world!!! It was relatively fast, as it only took 11 days… when Amazon.com usually takes 2 weeks or a month! It didn't use to be like that, Amazon.com used to be prompt in orders, sometimes getting my stuff in a couple of days, instead of a couple of weeks. Even worse, Amazon has increased its shipping cost……….. when Yesasia offers free international shipping~~~~ So if you're buying Asian music or films, don't hesitate and buy Yesasia!
Okay… online shopping rant over ~~~ OH MY GOD!!!!! Salyu's albums are soooooooo awesome. The music is really really good, and it was impossible to me to find online. However, the awesomest album artwork! The few Asian albums I've bought in the past 4 years have all been nifty packaging, and this one is NO EXCEPTION! Word!
"landmark" contains a songbook that is not like your custom 8-pages stapled songbook, but like a flashcard one. There's 12 squared-matte-prints in full color showcasing 12 different Salyu photographs, that I just love, and ALL the lyrics behind each.
"Terminal" has a simpler songbook look, with a half-sized-12-pages songbook containing all the lyrics, and some artwork… doodles on crayon on top of photos, but not many photos of Salyu. This album comes in a digipak type of case, printed in nice thick matte paper with a great feel. INSTANT LOVE~~~
Miyavi's albums are not as different as Salyu's, but the songbook has great content… including great photographs, all lyrics, and a couple of extras! I mean, these albums have THICK printed stuff, unlike the skimpy stuff on western albums, LOL. You know, like those 4-pages-songbooks that only include song credits, a photo and the thanking of the musician. These Asian albums make you want to buy the CD.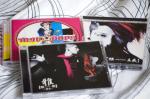 And to top it all of, Yesasia gave me a free toy, HA! When making my choice, I didn't think much on it, but this toy turned out pretty cute. LOL.