We're back with a new edition of why the 90's ruled!! For past reasons of why they ruled, check the following links:
Part I
Part II
Part III (Disney Edition)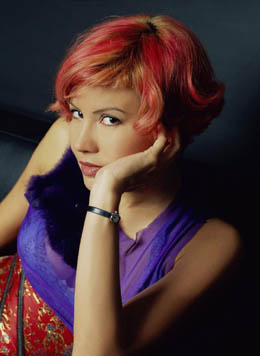 This time, I'm gonna be talking about the coolest VJ in MTV Latin America, and that was Ruth! The orange-haired Argentinean who graced MTV Latin America for long enough so she could make an impact on my TV viewing. She was chill, she was hip… she was just what VJs are supposed to be.
According to Wikipedia, Ruth is a host and an actress, and became one of the main figures for the Latin American youth thanks to her job as a VJ for over 10 years. I mainly knew her from her show Conexion, but she also hosted, co-produced and wrote several other interactive programs… which make her even cooler.
You see, MTV was cooler at that point in time… VJs didn't try hard to be hip and cool. MTV was actually about music, and reality tv and crappy series weren't part of the scheduling. You could actually keep your tv on MTV, and no one would think that was weird. There was also Daria, Beavis and Butthead, and even Ren and Stimpy!
And why the heck am I writing about this? Well, I was watching old tapes, and I had recorded some of Ruth's show Conexion. I actually ended up watching the whole show, and it made me nostalgic about watching MTV, lol. I barely watch any MTV, maybe I occasionally end up watching it at 3 or 4 in the morning, but you wouldn't catch me watching it during the day.
Nowadays, I tend to watch more VH1, but it's not necessarily good either, but it's better than MTV's programs… most of the times. I remember that in Canada I began watching MuchMusic, which is like Canadian MTV… after a while, I was more of a MuchMoreMusic type of person, almost like the Canadian version of VH1. I did watch quite a bit of CMT too, but that was in Canada – Cable in Peru did had, at one point in time, CMT in their listing but it didn't last much longer than a month.