Archives For Snapshots
Unlike Bjork's concert [1], which I couldn't photograph… to even have a faint memory of it. I did get the chance to shoot Miyavi with my good gear, without having to sneak it in… which is good, because this new lens is super huge.
Thanks to Noizu who let me in with it.
Hey, guys! I got you more stuff from Weibo!
I don't know if it's because I've actually never actively search for stuff related to Yu's performance as Desdemona in Othello, but I just ran into these photos of Yu-chan in that play she did years ago circa her Welcome to the Quiet Room days.
I also ran into some of the old snaps she took while shooting The Lost World, which if you recall she was all secretive [1] [2] when she visited my South American turf. I'm sorry, I'm toooooo lazy to split up those images.
My gosh! Look what I found on Weibo~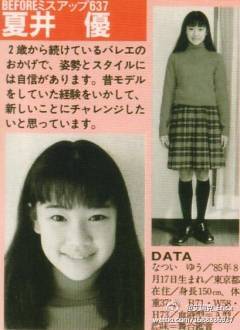 At the time, Yu was only 1.50m xD
By the way, she's turning 26 in two days. Yu is now closer to her 30s than her 20s. O_O
Oh hoh… teasing photo for those who wanted Shunji Iwai + Yu Aoi back together. xD