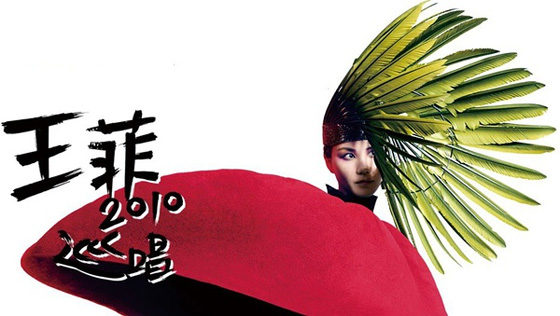 Asian Music Diva (mostly music anyway) has been slowly making a comeback into the music scene since her "retirement" in 2004… right after the release of her album To Love (Jiang Ai, which is out of stock everywhere… but I'm waiting for a re-issue, hopefully), after the release of Wong Kar Wai's 2046, and her Faye Live Tour.
Wong dusted off her dreamy vocals for the main theme of Chow Yun Fat's film Confucius, titled You Lan Cao, and her performance at the CCTV's Spring Gala a few months ago. Now she's dusting off her touring abilities with a series of 5 concert dates in Beijing.
Beginning October 29th, and continuing with 30th, and 31st, as well as November 5th and 6th. There are 6 different pricing tickets, however, all the seats priced at 300 Yuan (nearly $50 USD), 500 Yuan, and 2500 Yuan (nearly $400 USD) sold out in 10 minutes.
A press conference, that included only 300 members of the press that were invited, was held yesterday in which Wong appeared wearing a red dress (possibly for the passing of her vocal teacher Dai Sicong, who passed away recently). This short series of concerts in Beijing have until now generated over $2Million USD.
Dates in Shanghai are also scheduled.
via Aiya They Didn't, Faye Wong Today, Daily Chilli, and ChinaPiao.com
—
Oh, I am so jealous. Though, that thing about arriving 45min late, it's a huge… and I really mean a HUGE turn off for me, this just goes to show you that Faye Wong is truly a star, because no one was pissed off when she did finally arrived. I imagine that she's truly mesmerizing in person… like meeting a fairy or something. Maybe she sparkles. LOL