Does anyone know the criteria on how IMDb moderates their posts? Most importantly… its threads?
You see, I saw YPF over the weekend. Yes, dubious~~~ But I'm so gonna buy it! So there was this "talk dirty scene" with Carly Pope and Aaron Abrams from the segment "Friends" I knew the scene was in, but it still makes you burst out laughing.
Anyway, I went to the IMDb boards and someone created a thread about it over the weekend, so it was a surprise to visit and find that the thread has been completely wiped. Thoughts? Censoring, or spoilers?? The film is calle Young People Fucking, for dude's sake!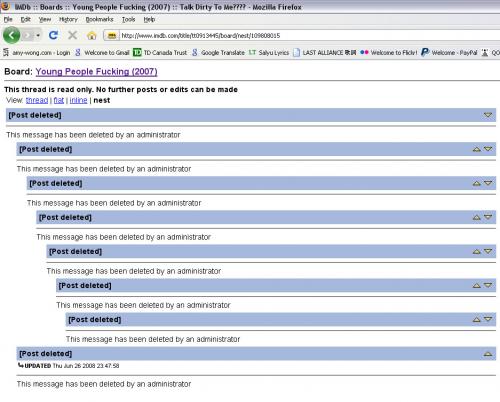 So I invite you to talk about the film (specifically the 'talk dirty' scene) in this post. Does anyone have the quote? LOL'