More Mobile Drama news!
First, this photo…
Kawaii Joyuu is reporting that there's a new mobile drama coming out this coming March 2010 on BeeTV, starring 5 hot women and one guy. Of course it's only one guy! Why wouldn't it? Right???
According to the report, it's titled Onna-tachi wa Nido Asobu (女たちは二度遊ぶ), which could translate as Women Play Twice (?), and according to my research is based on the book of the same name by Shuichi Yoshida, which will last 6 episodes of 5min each.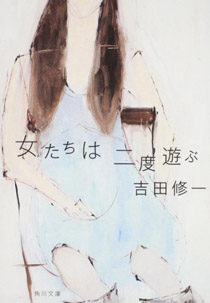 I could picture Mizukawa on that book cover, I dunno why.
Also starring on this project are actresses Koyuki (The Last Samurai), Kyoko Hasegawa, Yuuka, Saki Aibu and actor Yusuke Santamaria. Santamaria??
For a short trailer visit the Onna-tachi website, and click the black bar with text on it that is next to the audio button. Should I add a "mobile drama" category or tag?