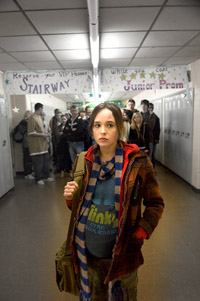 The last time I remember writing a review, it was for Golden Compass. This time I must express my luv for Juno… I instantly fell in luvvvv with the film, and we luvvv Diablo Cody for that. Ellen Page was superb as pregnant teen, Juno, though I admit Juno might be a little too smart to end up in shenanigans like that, but that's besides the point. Ellen Page = Junoness.
Michael Cera is cute as Juno's sperminator, while Simmons and Janney do great as the parents who don't freak out… Jennifer Garner and Jason Bateman appear as the couple adopting Juno's unborn baby. Oh yeah! And I have to mention Valerie Tian as abortion protester/classmate Su-chin (who happens to be from Vancouver, woot woot).
Juno is enjoyable, well acted, and has a rocking soundtrack. It's a must-watch for people, and it's a must-have for me! Oh yeah, and how much did all those cute doodling-doodle-dos rock?
I leave you all with a kick-ass interview with Ellen Page from Curve online-mag.