Archives For Stills
I don't think anyone needs more than a few words on this [1].
Remember when this was standard?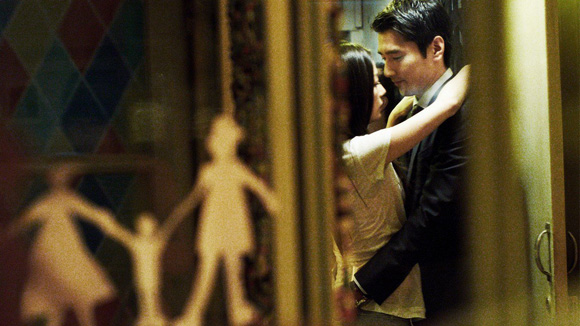 I think I've seen Ai Love at least three times, and I really like more when we get to focus on Zhao Wei's storyline, even though most of the stories are pretty good. But with the re-watches, Zhao Wei's character gets extra good. EXTRA. The camera sizzles when Mark Chao is in proximity of her, then smacks one on her and she slaps him.
And, of course, Zhao Wei does her 'sexy' funny dance with a cast hidden behind the door frame. And she aches, and she's embarrassed, worried, nonchalant, pissy and a total ditz.
I look young. My older cousins, who are just a bit older than JeA is, still see me and still tap me on the head. I still get carded. When traveling or meeting new people in general they always ask me about school… and I don't mean it like asking about university. They ask me about high school or wonder what I'm choosing to study at university.
I graduated from high school ten years ago (gosh!).
I usually look at people on movies or tv shows, watch their music videos, [1] and I think people… look like contemporaries of mine. When I google them, however, I'm surprised some of them are five or ten years younger than me. It's crazy. So because I tend to look at myself and think of my age, my expectation of how young people look is skewed.
Strangely enough, JeA still surprises me.
Starting out, I thought she was older than she is. Mid-thirties instead of early. As the years go by, she seems to be getting younger and younger, though. In this promo photo for the Brown Eyed Girls comeback (YAY! Comeback!), JeA looks like she's 16. It's nuts. 14 if you consider the giant teddy ages her down. And the pout makes her maybe a year younger than that.
It's crazy that with my skewed view on how 'old' people should look, JeA manages to look half my age. And what's funny~ if we ever meet in person, she'll probably be able to boss me around. Coz that's her presence. xD
Also, I'm psyched about the new album. I'm lukewarm on the Recipe single, though.
I remember how it was. The introduction to NHK's newest morning drama played and I wondered what happened to Jun to Ai, I thought Asadoras lasted all year — I guess not. Anyway, the intro to Amachan seemed pretty funny, and of course it was. Apparently, it was written by Kankuro Kudo, so I stuck around for an episode. Aki (Nounen Rena) had forcefully decided — against her mother's (Kyoko Koizumi) wishes — to become an Amasan. A photographer had been shooting pictures, and Kyoko Koizumi was running off to Koike Teppei's lighthouse screaming "HENTAI!!!!" and he apologized for it LOL. I was laughing too much already.
Then, of course, I saw Nounen Rena's funny face when falling into the water, and her funny expression when she was not-so-much as deep-sea-diving, but she was stranded in the middle of the ocean. I wasn't hooked, but I was peeking my interest. Damn, Nounen Rena is so charismatic… at least in the role of Aki.
I want to see some of her other roles to figure out whether or not this charisma is hers or if it's the role, and if it's the role… then maybe she's one hell of an actress. She seems super dorky too, and she has an aura that you kinda just can't help but to root for her.
I have a feeling I'm never writing that "ø" in Bolsø ever again. I'm not even typing it. But damn, I was impressed with Ingrid Bolso Berdal while watching Flukt. She really made the film for me. You remember how many chills I got from Charlize Theron in Huntsman? Watching Berdal as Dagmar was downright chilling. She's like a total badass Theron.