Archives For greta garbo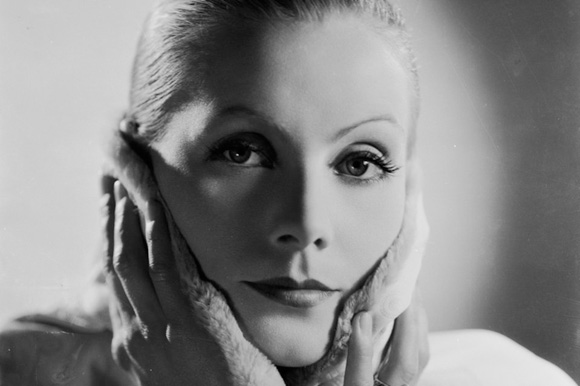 Look at that flawless face.
Both films featuring Clark Gable, released in 1931, and having a leading lady of rather humble beginnings that manages to rise to the top using her… er, skills. Of course, both Susan Lenox and Possessed have very different results. Though the cinematography in Susan Lenox is quite sublime at times — the whole introduction was marvelous with the shadows — I left rather disappointed by the end of the whole movie.
I've come to prefer Joan Crawford on screen~~~ remember, I got into her after I saw her on Grand Hotel, which came in the Garbo bundle. I was just left mesmerized. "Who is this woman, and where has she been all my movie-life???" So I do think Possessed edges Lenox by a pretty long thread. Despite its weak resolution, Possessed still holds itself pretty darn well. But even I must admit, I feel Garbo's magnetism oozing from this still… even more so than I do with Crawford.
So… to me, Garbo on still. Crawford on screen.
After some flame from their compilation of 135 Shots That Will Restore Your Faith in Cinema [1], Flavorwire is back with a new compilation~~~ this time around focusing on faces, their emotions and their beauty… to relative success. I don't think I could fault them… I had enough with Wong Kar Wai (included multiple times), multiple Zhang Yimou shots (and a double appearance of Gong Li to boot!), there was Park Chan Wook, Guillermo del Toro, Leslie Cheung's face.
It was a thing of beauty.
The only face I could possibly suggest would have been Greta Garbo's last shot on Queen Christina, but I'm content.
Following AM's advise on better blogging, I thought it'd be cool to follow through with my post on "What I Like about Japanese Cinema" which I wrote for the J-Film blog-a-thon last year.
So now I'm going to be talking about Hollywood movies! And by "Hollywood" I mean American films. Since I'm more familiar with commercial Hollywood stuff, while I've only begun catching indie flicks online (or when I was in Canada) for the past few years.
My current Facebook Flixster movie count says that I've rated 2431 films. Of course, that's only counting the films that I've been able to find in their database (american, foreign, commercial, or indie), and I'm far too lazy to send them stuff now. My MUBI account states I've rated 1450, so that should give you a proper average… I think.
So what do I like about Hollywood Movies?
1. Ah… the Hollywood Golden Era.
I'm familiar enough with Garbo and Crawford to know that I loved their films. And it's fact, LOL, Hollywood created movie stars, and actors went to Hollywood to become movie stars… and I love movie stars. I always complain now that they don't make them like that anymore.
Sure, sure… people who aren't into "old films" keep telling me that films in the era didn't look as great as they do now, or that acting was weird, and that subject matter in films have improved since then. To them I tell them… well, 1986 is not that old. Try a film from 1929. ;P
2. No matter how Indie they are, they still look sharp and clear.
There's something my mom always tells me when we, for some odd reason, end up catching a clip of any local – hint: non-American – film, "Why do films here look like they're stuck in the 70s?". It isn't that the local cinema shows the great quality of films in the 70s, here they just look like they're stuck with the technology.
It happens in American film, but not as often… and if it does, it's because they're really REALLY low-budget. But even really-low-budget filmmakers manage to bring a great DP on board. I mean, have you seen some of the stuff posted online? It's amazing what people are doing with "I shot this with my Canon" LOL
3. You guys have mastered the art of pseudo-indie.
Right? I mean, you have also begun to call these films Hipster… in a mocking kinda way, but alright – I admit it, I tend to like them because well, to me, these films can only be American. I cannot imagine an Asian hipster film, I cannot imagine a European hipster film. Little Miss Sunshine, Juno – people say Juno reminded them of me, LOL – they can only be American.
But you guys have also mastered the art of making big budget films, and call them independent. I mean how on earth do you call Inglourious Basterds an independent film but spend $70M USD in making it. To me, that's a big Hollywood movie – and I like it. LOL
4. Don Bluth, Disney, and Pixar
I grew up with Don Bluth's and Disney animation. Now, I'm growing old with Pixar (oh, gawd… I'm growing old). I mean, anyone my generation who hasn't grown up with Disney animation and Don Bluth's work, they might not have had a childhood – unless, of course you've grown up with Studio Ghibli… in which case, hate you.
5. I love when you support World Premiere… even if it's for sucky huge blockbuster films.
I'm an impatient gal, if I want to watch a new film over the weekend, it needs to open locally over the weekend, otherwise my enthusiasm for the film will wane, and I'll just end up catching it on dvd – or worse, on cable.
Most major studios have offices in most major cities in countries, so now it's easier to get a film to open on the same weekend as in the States. It just happened with that new Drew Barrymore rom-com, which opened one week after the US, and I'm pretty sure we're getting Narnia and Harry Potter (not that HP is American, but it's being distributed by Warner so…) the same day, or one day ahead. Now, if that could also happen with flicks like Black Swan, and other Award season flicks, I'd be a happy gal.
So… how about you guys? What do you guys like about Hollywood Movies/American Cinema? Or why do you hate it? I know some of you hate anything American with a passion. Such a tiring task. LOL
My fascination with Greta Garbo made me pick up this book. Author Diana McLellan – a writer of the Washington Post, hence… journalist? – tells me she's written the book with accounts of stars' memoirs, FBI and CIA documents and everything in between and around the people involved in this book. However, I decided to read this from the point of view of a fanfiction reader.
Now, I have never read (or written) fiction based on real people, but I'm aware it exists. In The Girls, there's so much stuff going on – let's say "so many characters" – that you'll get confused of who's who from time to time. If you're already familiar with the names — besides Greta Garbo and Marlene Dietrich — you'll be more than fine probably.
In it, McLellan says that Garbo and Dietrich met on set of The Joyless Street, which goes uncredited on Dietrich's filmography even to date on IMDB even as the author states that there's an interview in which Marlene talks about a crucial scene that was eventually cut from the film, and that they had a fling that ended so bad that would define the rest of their lives. Then, throughout the whole book, they begin explaining how was Hollywood during the 20s and early 30s, and what events began changing the perceived morality of that era… bringing on the Hays Code. It deals with Marlene's supposed husband, a spy named Otto, who worked for the Communist Party as the Nazis were taking over Europe. And just like in movies, war, spy stories, people using each other and so on… the book also deals with loads of sex. It talks about how gay Hollywood was. Or I guess… how lesbian it was or how bisexual. It turns out everyone I watched on old films was not completely straight. LOL
The book contains so much drama, and recounts anecdotes of so many celebrities of the time, that's when I began thinking that it might be a little too adorned to be completely true. Of course, there's that bit about what truth hides behind the lies they tell you on official biographies or approved releases. Or something about the lies hidden behind the "truth" they give you. It was just a little too much fun to read all these encounters. My favorite being that of Greta Garbo and Joan Crawford – how these details are known, not entirely sure – because I love the both of them.
During Grand Hotel, she [Crawford] said later, the two passed on the stairs one day, and Joan was so overcome that she lowered her eyes. Garbo blocked her way with an arm, gazed directly in her eyes, and crooned, "I am glad we are working in the same picture." Joan reported that Garbo "took my face in her hands and said, "What a pity! Our first picture together, and we don't work with each other. I am so sorry. You have a marvelous face." Her knees went weak, Joan related. "She was breathtaking. If ever I thought of becoming a lesbian, that was it."

Chp. 24 – Flirting – "Her Knees Went Weak"
pg. 152-153
That's from that famous Garbo/Crawford not-getting-along report I've so much read about. I mean, I really REALLY loved Crawford when I saw Grand Hotel — included in the Garbo Collection — that I ended up buying the Crawford Collection. LOL So I pretty much agree with Garbo's possible comments on her marvelous face. xD
As for Marlene Dietrich… Wow~ her chapters, I thought I was reading one of those cheesy romantic novels that grown married women read. LOL She really REALLY got around. With a lot… and I really mean A LOT of people. It's like… she was older than any of my parents, and she was still getting some. Disturbing, but true. LOL
Marlene tore down Edith's panties backstage in a Berlin theater and, using just her mouth, brought Edith's to orgasm.

Chp. 9 – A Swede Steams In – "Using Just Her Mouth"
pg. 62
Even her daughter Maria was afraid her mom would sleep with her fiancé. xD