Archives For Moving Media
This just doesn't seem quite right :/
I've got some pretty nice recommendations to share.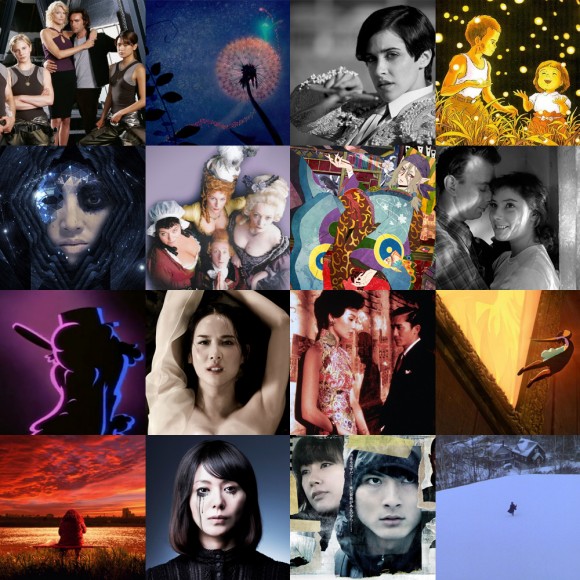 When I was in Canada, I spent some of those Sunday nights watching Sunday Night Sex Show with Sue Johanson, and then my mind was blown. With her as-a-matter-of-fact tone, and some of the most bizarre requests [raw meat, anyone? Somebody said Athlete's Foot?], Sue delivered sex knowledge and opinion like I have never had heard or seen before. It also happened that Sue wasn't like how the media had made me imagine sexologists were like.
WARNING: This Hot Mix is both HILARIOUS and NSFW!
All the while, coming over down here, I saw the birth of Alessandra Rampolla and her show, which has in part revolutionized Latin America, I suppose. The difference with the both of them is, I suppose, culturally. While Sue's show was set for call-answering ANY question, Rampolla's show is set more like a talk show… which is more like a familiar format for the region, but doesn't allow the same topic freedom that the other format offers.
I like that Rampolla's way of talking is a lot like a kinder or primary school teacher explaining — still — the finer points of being bisexual to her audience with ease and humor. Rampolla's style is more like Sexologist 101, while Sue is more Advanced Studies.
I didn't find any cool YouTube mix of her, so this interview with her by Magaly Medina will have to do. Medina isn't a sexologist or all that serious when she does her entertainment show, so some of her comments are a bit eye-roll worthy, but Rampolla really is that lovely.
About a week ago Nat Geo was showing a new episode of Tabu Latinamerica, which happened to focus on food. One of my favorite subjects. Thinking about food makes me hungry. But this is Tabu, so obviously we weren't going to be talking about regular food. While the episode focused on Mexico and Venezuela, with their talks on eating rata campestre (countryside rat??? not from the sewers of course) soup, and… some kind of tarantula/spider?
Anyway, part of the episode also focused in Peru, where they showed a town called La Quebrada, in Cañete, they prepare cat. I haven't eaten cat — at least, not knowingly… though once while we were eating rabbit chicharron, we suspected we had been given cat because the "rabbit" was bigger and had more fat in it — but I've eaten a lot of other things. Of course, guinea pig is kind of a regular "bizarre" food, and I guess rabbit is bizarre to some people. Suri (the worm) is also tasty when fried (it's almost like crispy pork skin), as well as an assortment of fishes~ Including the palometa (which I've heard it's a piranha's cousin LOL) and paiche. Shark's fin soup and swallow's nest soup apply.
It's kind of always been common knowledge that people ate cats in Peru- my family (and I'm sure many other people) often joked about it, it's like joking about everything being chicken, or eating the insides of animals — horror movies and 4D jokes are perfect. Let me tell you, thank you Afro-Peruvians for developing Anticuchos. As a Peruvian who has finally learned to eat without asking (much), and not judge cultures by my own point of view, it saddens me to see people's comments. Especially considering that we're all Latin Americans.
Does it feel good to call other people ignorant, or small-minded? Is it wrong to eat something just because you think it's your pet? Is it not wrong that we eat cow so easily when Indians see them as gods? We're eating their gods, sending them to slaughter houses, and people judge these people because they eat their pets in a non-industrialized way. This is kind of the same issue I had with The Cove [1].
I was browsing albums, when I stumbled upon this album cover by Elliot Tupac.
Of course, for those in the know, you'd know that's a super Chicha style type of typography [1], so interested to see what it was all about, I did a quick search. You'd be happy to know you can stream all of the EP Cuatro Tigres on Soundcloud, as well as their new album Canibalismo. Chicha Libre is a multi-ethnic Brooklyn-based group formed by Americans, Mexicans, Venezuelans and French musicians mixing Peruvian Chicha music with 60s psychedelic music and stuff. It's pretty trippy.
I never in my life would've thought that I'd be sitting through more than one album of Chicha music. The most interesting thing is that there's no Peruvians in sight on core members of the group. You can check them out on Facebook or Twitter. I'm not entirely a Chicha convert, but I appreciate the variety in the concept of the group. I do think they sound a lot like Chicha groups, but sing in English instead. Novelty, but it gets a bit tiring by the fourth track.
Conveniently, the group was asked to do a The Simpsons tune for one of the episodes.