Archives For new music
… at this rate, I'll add their tag before I travel xD
GIFs after the break~
It's been just a few months since I seriously started listening to MAMAMOO, and they've just won me completely over with the release of Melting, their personalities, talent and just pure swag. Oh gosh, these girls are hilarious, just the fact that they've released a sped-up version of one of their singles for the giggles. It's super cute. AND THOSE VOICES.
Funny fact, I was checking my Facebook post history to see when I started posting about them… and it turns out I did post about their debut back in June 2014 when it first showed up on my YouTube timeline because I used to call my friend (who's older than me) Mamamoo. LOL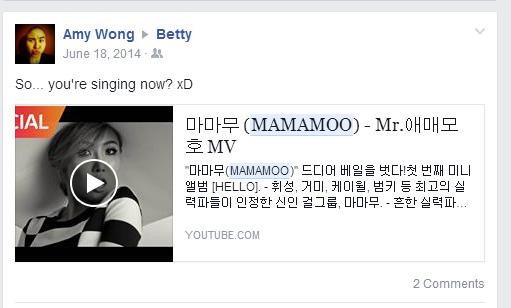 So I'm psyched they won their first Inkigayo, and they really really had the feels because it means something when an artist/group signed to NOT one of the big labels win a popularity contest against others who are part of big labels.
So I'm late to the party (as always), and just started watching this year's season of Sing my Song (中国好歌曲), which has been airing for a couple of weeks. It's honestly my favorite of these many music contests because it's new songs. I never ever stay through the actual contest, but… I do enjoy their blind auditions for the surprises!
Episode one, so far, has given me that awkward moment when Laurence Larson 罗艺恒 sings better Mandarin than me… nobody turns for blues singer 黄晓宁 Huang Hsiao Ning which makes David Tao cry (and reminds me of my dad, hence also making me teary), and gives us the meta moment of the night (and probably of the season) when Liu Wei 刘维 sings Because You Are Mavis Fan (因为你是范晓萱), using many Mavis music and lyrics cues, to make Mavis herself cry.
I'm a Mavis fan and I love I Want Us to Be Together to bits, so of course I loved it.
The song is available for download over at QQ (apparently, officially), but you gotta download their APP, sign up for an account (maybe pay to get the 320kbps version)… and for sign up, it's asking for a mobile number to send a verification code, and I don't use a phone, so I can't sign up [Hipster First World Problems]~~~ so I only got myself a 128kbps from somewhere murky on the net LOL. If you happen to get the 320kbps one, do share it with me pretty please.
And it's not like EVERYTHING is available on iTunes. On time.
Though Fitoor might get trapped by remaking Alfonso Cuaron's version of Great Expectations… I'm still looking forward to Tabu as Begum. I'm also looking forward to see Haminasto (aka. also romanized as Haminastu) [YouTube] because it's my favorite track in the whole soundtrack, even though I've been butchering some of the other songs out loud late at night. xD I like the song so much that I ended up looking for Zeb Bangash, found Pakistani duo Zeb and Haniya, discovered Coke Studio [1][2][3][4][5 non-Zeb related], and downloaded the compilations on iTunes [S2][S6].
It messed up my language library because there's so much Punjabi, Urdu and Pashtu, and Turkish… I don't know which is which xD
ANWYAY~ OCD frustrations aside~
Fitoor promotions are at full throttle~ and it includes the release of this micro clips of dialog, which I don't understand at all… but Tabu's just saying "Firdaus, Firdaus, Firdaus" gives me the chills.
You probably know I'm excited for Abhishek Kapoor's Fitoor, of course, mainly because of Tabu xD but also because of the whole tortured emo broken-heart soul of the story. Plus, it's Amit Trivedi's music. I was (and usually always am) less excited about the leads… even less with Katrina "I can'ts but I tries" Kaif. Like- I don't even know why I sat down to watch Phantom, because that's hilarious.
But I'm always surprise to hear people saying that Katrina sucks at dancing… because I've never seen that. I think the first time I saw her was in YRF's Jab Tak Hai Jaan, and — okay, I was mostly in love with Saans [clip] because that's a damn good sexy song. LOL — but I don't remember her sucking in the Ishq Shava [clip] number at all. In fact, I remember I actually said she wasn't a bad dancer.
And I know everyone EVERYONE loves to hate and hates to love Sheila Ki Jawani [clip], but it appears on so many movies I've come to accept its catchy qualities despite movie and content. And even then when it appears people say she's not a good dancer, she dances alright.My Kaif knowledge ain't extensive, but even in Dhoom 3 [Kamli][Dhoom Machale Dhoom], she does totally fine. I can't picture her at all doing Indian dance, but she totally nails modern and contemporary.
They looked pretty good doing this. Who choreographed it?