Archives For korea
This is love~
The international cut of the trailer also looks so good~
So there's been some rumors around, I'm not going to discuss… but they did turn out this super duper cute kiddie picture of Solar, and after I went all lady-like saying "omygoshshessocuuuuuuute,"
So I started watching We Got Married for the first time. I had previously just watched clips when GaIn used to be on it, but never got into it full on. But since I'm in my complete Mamamoo fan mood, I just couldn't miss Solar (my bias, though… this keeps changing) in all her dork splendor!
I was not disappoint~ xD
I mean, when has Mamamoo failed to make me crack up? I wonder how this went when editing the episode, they probably laughed their butts off because…
… at this rate, I'll add their tag before I travel xD
GIFs after the break~
It's been just a few months since I seriously started listening to MAMAMOO, and they've just won me completely over with the release of Melting, their personalities, talent and just pure swag. Oh gosh, these girls are hilarious, just the fact that they've released a sped-up version of one of their singles for the giggles. It's super cute. AND THOSE VOICES.
Funny fact, I was checking my Facebook post history to see when I started posting about them… and it turns out I did post about their debut back in June 2014 when it first showed up on my YouTube timeline because I used to call my friend (who's older than me) Mamamoo. LOL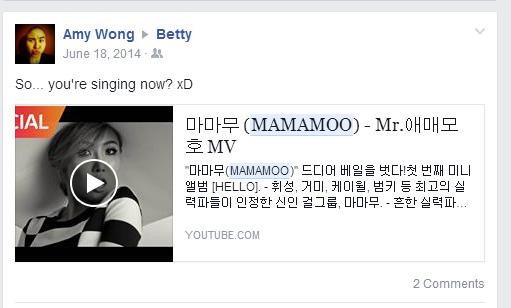 So I'm psyched they won their first Inkigayo, and they really really had the feels because it means something when an artist/group signed to NOT one of the big labels win a popularity contest against others who are part of big labels.