Archives For dork
… at this rate, I'll add their tag before I travel xD
GIFs after the break~
It's been just a few months since I seriously started listening to MAMAMOO, and they've just won me completely over with the release of Melting, their personalities, talent and just pure swag. Oh gosh, these girls are hilarious, just the fact that they've released a sped-up version of one of their singles for the giggles. It's super cute. AND THOSE VOICES.
Funny fact, I was checking my Facebook post history to see when I started posting about them… and it turns out I did post about their debut back in June 2014 when it first showed up on my YouTube timeline because I used to call my friend (who's older than me) Mamamoo. LOL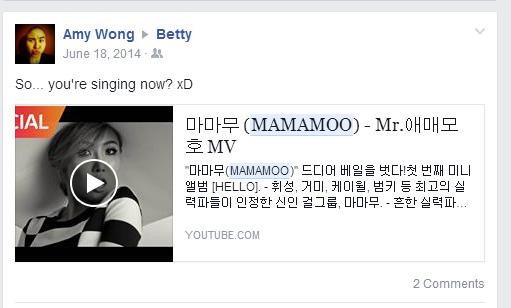 So I'm psyched they won their first Inkigayo, and they really really had the feels because it means something when an artist/group signed to NOT one of the big labels win a popularity contest against others who are part of big labels.
Well~ just grab Chulpan Khamatova, dress her up in your clothes and snap a few photos in your store. She's that charming and photogenic.
She just posted these shots -probably just shopping- at Xakama (ХакаМа) [Official Website][Facebook].
My limit for sap is through the roof, as I got all warm and fuzzy when I found this song Rene Liu recorded with mah gurls Zhou Xun, Kwai Lun Mei and Tang Wei (whom I've just recently warmed up). They're all super cute and super dork and super sappy together. I love it.
The song is called Wish You Well (我要你好好的), a single of Rene's latest album of the same name, but it's one of the last songs to get a video. The song Murmur of the Hearts (念念) [MV] is also on this album. I thought maybe it was for a movie, but doesn't seem likely.
Happy listening~ DORK AWAY!
Feels like I haven't posted a trailer in ages on here, but since it's already been like a month- this is more of a personal note to watch this coz it looks so damn funny.
Cast: Vivian Sung (宋芸樺), Darren Wang (王大陸), Dewi Chien (簡廷芮) and Dino Lee (李玉璽).