Archives For awards
it's like impossible for girl groups to make it.
We're all missing out on this amazingness~
It's been 15 years, nothing has knocked Dancer in the Dark out of my #1 favorite movie. I hardly remember the Oscars ceremony (of any year), but Bjork's Swan dress is a classic in the public consciousness. Her performance of I've Seen it All, though shorten for the ceremony, is still better than the would be mash-up with other songs from previous years. And if I'm not mistaken, this year's performances were even more rushed… yet, the broadcast never seems to run on time.
I can't wait to get Vulnicura in my hands.
Except for the mandatory appreciation for Boyhood (the Patricia Arquette show) and Whiplash, which had me contorting from all the conflictive feelings, I'm feeling rather lukewarm with this year's award season as you can see from my 2014 Films Ranked compared to my Academy Award Watchlist.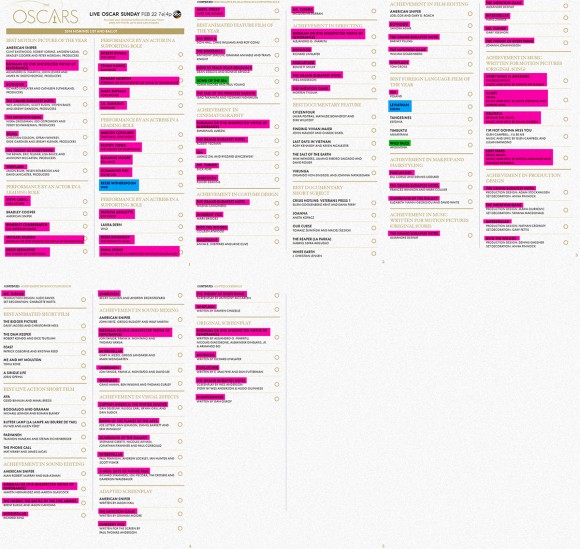 Hot pink is watched, light blue on to-watched queue, highlighted in green haven't been found yet. My excuse for lack of documentaries and shorts is because of access. I find them extra difficult to get. Also, any respectable award show needs the presence of Haider. LOL And I could do a LOT LESS from Clint Eastwood. I'm not even one of those complaining for lack of women behind/in front of the camera, the nominees are just so damn BLAH! except for the few couple of surprises- some spice with Marion Cotillard (even though I don't feel strongly about the movie), Ida and Mr. Turner in cinematography… and The Tale of Princess Kaguya.
Oh, who am I kidding. What I love about the end of the year is all the Best Of lists, rankings and voting. Expect my annual Top50 Songs of 2014, My fave movies of the year, and My fave local 2014 releases. I might even have enough material for a 2014 Music Highlights.
We started voting early on the YAM Magazine lounge because we are all lobbying for our favorite films, and prepping our personal End of the Year lists. I'm the most serious of all because lists can only matter when you grab the biggest possible sample. Not watching Indian movies meant that I wasn't watching roughly 30-35% of the worldwide output.
So this is my first year online voting for Indian movies! I actually kinda like how MANY categories there are for actors to get a nod. LOL They don't always make sense (Superstar of Tomorrow, hahahahaha and the Male Thriller/Action is quite rubbish), but I'm generally happy when I get to vote for Tabu, Madhuri and Rani without much conflict. So~ YEAH!
You can vote here.
I stumbled across this performance that Madhuri Dixit did for the Stree Shakti Award, thinking it's been the most refreshing performance I've seen her do lately — with the added bonus of the Gulaab Gang title song as the cherry on top — when I realize that the whole event is to honor women with exceptional achievements. Ohhhhh, so that's why the performance was a bit out of the box. I love it.
About a week or two ago, my friend and I got to watch Beta… and though it did change our (enjoyment) perspective of Dhak Dhak Karne Laga (Ouch!), it had my friend saying the following quote for the ages… "I love it when Madhuri holds a sword," xD
I think I will eventually have to watch Koyla then.