Archives For Fun
… at this rate, I'll add their tag before I travel xD
GIFs after the break~
It's been just a few months since I seriously started listening to MAMAMOO, and they've just won me completely over with the release of Melting, their personalities, talent and just pure swag. Oh gosh, these girls are hilarious, just the fact that they've released a sped-up version of one of their singles for the giggles. It's super cute. AND THOSE VOICES.
Funny fact, I was checking my Facebook post history to see when I started posting about them… and it turns out I did post about their debut back in June 2014 when it first showed up on my YouTube timeline because I used to call my friend (who's older than me) Mamamoo. LOL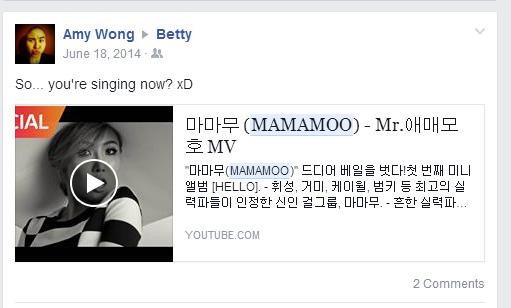 So I'm psyched they won their first Inkigayo, and they really really had the feels because it means something when an artist/group signed to NOT one of the big labels win a popularity contest against others who are part of big labels.
They all come to me~ xD
Bjork, Miyavi, Big Bang, JeA~ Too bad I don't have my dad to be my music companion :( He would've loved seeing Laura Marling in a cozy musical setting. He was that kind of person. We would also be waiting for Adele, Shiina Ringo and Faye Wong. lol
So I'm late to the party (as always), and just started watching this year's season of Sing my Song (中国好歌曲), which has been airing for a couple of weeks. It's honestly my favorite of these many music contests because it's new songs. I never ever stay through the actual contest, but… I do enjoy their blind auditions for the surprises!
Episode one, so far, has given me that awkward moment when Laurence Larson 罗艺恒 sings better Mandarin than me… nobody turns for blues singer 黄晓宁 Huang Hsiao Ning which makes David Tao cry (and reminds me of my dad, hence also making me teary), and gives us the meta moment of the night (and probably of the season) when Liu Wei 刘维 sings Because You Are Mavis Fan (因为你是范晓萱), using many Mavis music and lyrics cues, to make Mavis herself cry.
I'm a Mavis fan and I love I Want Us to Be Together to bits, so of course I loved it.
The song is available for download over at QQ (apparently, officially), but you gotta download their APP, sign up for an account (maybe pay to get the 320kbps version)… and for sign up, it's asking for a mobile number to send a verification code, and I don't use a phone, so I can't sign up [Hipster First World Problems]~~~ so I only got myself a 128kbps from somewhere murky on the net LOL. If you happen to get the 320kbps one, do share it with me pretty please.
And it's not like EVERYTHING is available on iTunes. On time.
I finally took the time to catch up with all seasons of Orphan Black, which I had trouble sitting through during its first season… even though I think I might have actually sat through those 10 episodes on reruns without knowing they were 10 episodes. there's a slump there somewhere between the first 3-4 eps, but once you go through that threshold, it's a breeze worth the binge-watch. Season 2 flowed better as a viewing experience because half the first part rides on its S1 high and it sets itself for Season 3, which doesn't glide as smoothly.
But feelings have been had. In terms of Sarah dealing with Beth in a near-death dream sequence that totally reminded me of the Buffy episode, Restless… which interestingly fits into Season 4 of that show where they also deal with the military and conspiracies xD
Feelings were also had because of that messy relationship between Cosima and Delphine, sidetracked by Shay. I haven't had the fandom feels in so long… and it's Cosima's relationships because Sarah-Paul is so impersonal, and Cal -as good as he may be- has been mostly off-screen history. It's Cosima and Delphine because I'm a sucker for that "I'll give you up for you" thing, and Cosima with Shay because- man, Shay's gotta be bad for Cosima's heart. She seems soooooooooo damn good and caring, it's gotta be setting up a heartbreak even though it would be "Delphine is your monitor 2.0" and it's only been freaking 19min. of them together through the whole season.
And man is Ksenia Solo as Shay the type. Yup, there's a type. Carly Pope meets Juno Temple. lol