Archives For performance
… at this rate, I'll add their tag before I travel xD
GIFs after the break~
It's been just a few months since I seriously started listening to MAMAMOO, and they've just won me completely over with the release of Melting, their personalities, talent and just pure swag. Oh gosh, these girls are hilarious, just the fact that they've released a sped-up version of one of their singles for the giggles. It's super cute. AND THOSE VOICES.
Funny fact, I was checking my Facebook post history to see when I started posting about them… and it turns out I did post about their debut back in June 2014 when it first showed up on my YouTube timeline because I used to call my friend (who's older than me) Mamamoo. LOL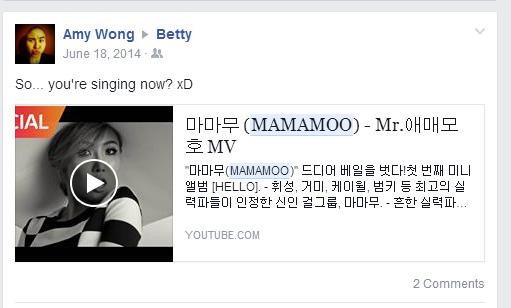 So I'm psyched they won their first Inkigayo, and they really really had the feels because it means something when an artist/group signed to NOT one of the big labels win a popularity contest against others who are part of big labels.
So I'm late to the party (as always), and just started watching this year's season of Sing my Song (中国好歌曲), which has been airing for a couple of weeks. It's honestly my favorite of these many music contests because it's new songs. I never ever stay through the actual contest, but… I do enjoy their blind auditions for the surprises!
Episode one, so far, has given me that awkward moment when Laurence Larson 罗艺恒 sings better Mandarin than me… nobody turns for blues singer 黄晓宁 Huang Hsiao Ning which makes David Tao cry (and reminds me of my dad, hence also making me teary), and gives us the meta moment of the night (and probably of the season) when Liu Wei 刘维 sings Because You Are Mavis Fan (因为你是范晓萱), using many Mavis music and lyrics cues, to make Mavis herself cry.
I'm a Mavis fan and I love I Want Us to Be Together to bits, so of course I loved it.
The song is available for download over at QQ (apparently, officially), but you gotta download their APP, sign up for an account (maybe pay to get the 320kbps version)… and for sign up, it's asking for a mobile number to send a verification code, and I don't use a phone, so I can't sign up [Hipster First World Problems]~~~ so I only got myself a 128kbps from somewhere murky on the net LOL. If you happen to get the 320kbps one, do share it with me pretty please.
And it's not like EVERYTHING is available on iTunes. On time.
I really really enjoyed many of the performances in this year's Spring Gala, which included a dance rendition of a Mo Li Hua (茉莉花) instrumental, the suspended dude on a mast on top of a digital display of the ocean (直挂云帆), and the Drum Dance in Prosperity Xi'an Terracotta Army, The Silk Road (丝绸之路), The Beauty of China (山水中国美). Also, my biases Zhao Wei and Sa Dingding (doing the Good Luck Song (吉祥吉祥)) were there! Donnie Yen showed up too! Dude! I even enjoyed the super Red Song, My Homeland (我的祖国), which was performed by Wang Li (王莉), Wang Qing Shuang (王庆爽), You Hong Fei (尤泓婓), Jin Ting Ting (金婷婷) and a special appearance by opera soprano Guo Lanying (郭兰英).
I also enjoyed the Inner Mongolia [1][2][3] and minorities medley In the Great Embrace of your Hometown (在你伟大的怀抱里) numbers xD In turn into a bit of a Red Song somewhere there by the end, but it wasn't even the Reddest song of the night. LOL But I enjoyed it.
Tan Wei Wei's (谭维维) number, though, featuring Zhang Ximin (张喜民) and Huayin Lao Qiang performers ("华阴老腔"演员) floored me. So much damn fun and energy. I loved it. The song was presented under the titled "the Huayin old tune in high tone shout" (华阴老腔一声喊, huayin lao qiang yi sheng han). It also teaches us all about Huayin Lao Qiang (Huayin Old Style "Chinese Rock'n'Roll)!
Ice-skaters Tatiana Volosozhar and Maxim Trankov did a rendition of Nagada Sang Dhol [clip] in their ice-skating routine (which, apparently, won them a gold medal) that made me want to watch Devdas on Ice~~~ or specifically Dola Re Dola on Ice because I'm like that!
As you know~ Russia is big on the ice-skating events, even more so than the Koreans (who had the reality Kim Yu-na's Kiss & Cry[1]), the Japanese who broadcast ice-skating competitions quite regularly throughout the year, and the Americans (the other day I caught a broadcast of Musselman's Apple Sauce Family Skating Tribute on ESPN).
I never thought I'd see this fandom crossover. xD