Archives For Moving Media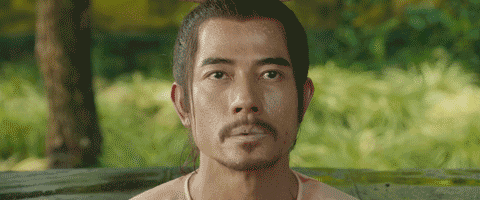 – Master, I wanted to see someone, but couldn't.
– Have you not seen him in your heart?
Okay, I'm slightly impressed.
While posting the trailer of The Puppet Syndrome, I found it a little bit difficult to distinguish between gorwn-up Liza (Khamatova) and the actress that was playing her younger self. Khamatova's face is peculiar — to me, it's like trying to cast a young version of Bjork — but Young Liza, played by Alina Gvasaliya (born 1992) comes close.
I, of course, also ended up finally watching Peter Chan's Perhaps Love (如果·爱), which is China's -possibly- only formal foray into the musical genre. They were probably so into Moulin Rouge! and Chicago at some point, they got Farah Khan to whip some of her Bollywood 90s magic. You can see all the influences.
But, of course, Chinese people don't believe in happy endings… even in musicals! Farah Khan probably watched this and was bored out of her mind because she probably doesn't get us tortured East Asian souls. I did buy into all the grown-up lamenting love story.
To misquote Ron- I want to suffer, but I want to be happy about it.
I haven't caught up with Dr. Rintaro since the first episode, but Yu-chan's name has been going around on Twitter. Apparently — according to Twitter/Google/Bing translation — Yu is one of the actresses/actors who smoke. You know Japanese magazine rags, though, all text no images xD If anyone is shocked/surprised/following this, please do let me know. Otherwise, disregard. If Yu is, in fact, smoking… for years, hats off. Gurl, how do you keep yourself so young? Genes, I tell you, GENES!
In other news… The Case of Hana & Alice is (finally) coming out on DVD/BR disc in August.
【「花とアリス殺人事件」ブルーレイ&DVD8月12日発売!!】 ジャケット写真のデザインが公開!スリーブケースは初回限定☆特典映像には、岩井監督、蒼井優さん、鈴木杏さんによる3Sインタビューの"完全版"等が収録。どうぞお楽しみに! pic.twitter.com/jRd1Ytxn6P

— iwaiff (@iwaiff) July 7, 2015
There's also news that Yu-chan will be voicing a character (I suppose the female robot) in an upcoming Disney Channel Lilo & Stitch SP. Complete with Yu & Stitch photo [picture][link].
… and finally~
Feels like I haven't posted a trailer in ages on here, but since it's already been like a month- this is more of a personal note to watch this coz it looks so damn funny.
Cast: Vivian Sung (宋芸樺), Darren Wang (王大陸), Dewi Chien (簡廷芮) and Dino Lee (李玉璽).