Archives For Celebrity
… at this rate, I'll add their tag before I travel xD
GIFs after the break~
Did I tell you? I'm going to Japan next week! It'll be less than 2 weeks, but I'm going! I'm mad excited and totally nervous. I feel there's so much to do and so little time, all I'm hoping is that I don't get lost. xD Anyway~
This just popped up in my searches~ Yu Aoi is doing another rendition of John Ford's 1600s incest tragedy 'Tis Pity She's a Whore, under the Japanese name Aware Kanojo ha Shofu (あわれ彼女は娼婦), which had already been presented back in 2006 with Eri Fukatsu, Shosuke Tanihara and Mikami Hiroshi [1][2]. The brother half of this story will be played by stage/voice actor Kenji Urai (浦井健治).
The play was translated by Odajima Yushi (小田島雄志), and is being directed by Kuriyama Tamiya (栗山民也).
The play will begin on June 8th 2016 until the 26th.
You can check the varying schedules available at the New National Theatre Tokyo website.Prices ranges from 8,640円; 5,400円; 3,240円 and 1,620円.
You can check two interviews with both of them over at Spice [1][2].
It's been just a few months since I seriously started listening to MAMAMOO, and they've just won me completely over with the release of Melting, their personalities, talent and just pure swag. Oh gosh, these girls are hilarious, just the fact that they've released a sped-up version of one of their singles for the giggles. It's super cute. AND THOSE VOICES.
Funny fact, I was checking my Facebook post history to see when I started posting about them… and it turns out I did post about their debut back in June 2014 when it first showed up on my YouTube timeline because I used to call my friend (who's older than me) Mamamoo. LOL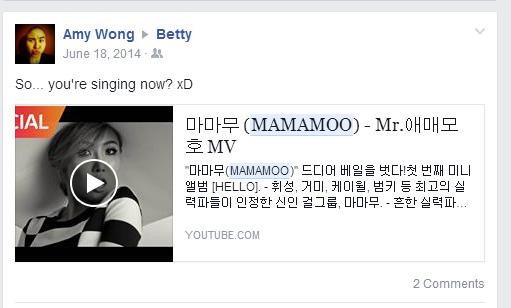 So I'm psyched they won their first Inkigayo, and they really really had the feels because it means something when an artist/group signed to NOT one of the big labels win a popularity contest against others who are part of big labels.
The first episode/short film, The Road Trip, for Ankur Tewari's Y-Films web series, Love Shots, has finally been released. And it's awesome. It's kinda sad that YRF has to put so much great talent on the web and not on the big screen, but it's great that they put together such a great list of talent. The first episode has Nimrat Kaur, so we all can get our fix there, alongside Tahir Raj Bhasin who crept everyone out in Rani's Mardaani. Their chemistry sizzles here. They're both great.
Promising start for the series~
A new episode will be released every Tuesday until all six shorts are out.
I ran into this video on YouTube from the Off the Great Wall channel, and they got a bit of flack over the fact that a vast majority of their picks (3 picks for each of the four speakers) were East Asians xD — only one South Asian pick, because Aishwarya has to be everywhere xD, and then there were the Asian-American (Lucy Liu, I don't think she's mixed… is she? And she makes it twice~), the Euro-Asian (but basically) Asian-Americans (Maggie Q + Olivia Munn), and (off the official list) the Euro-Asian (Thai-Swede Praya Lundberg).
The thing is beauty is such a subjective element- whatever floats your boat depends on who you are, cultural background, upbringing, etc. But I do agree with Dan (though he doesn't apply his own rule when it comes to Munn) — especially when making lists — Staying Power is important.
So I do agree 100% that Gong Li deserves that spot. She's fabulous and continues to be even more fabulous… In Bollywood talk, Gong Li basically started her career doing de-glam roles in banned Zhang Yimou movies. She was a villager so often, wife of gangsters; and in her 40s, she became an Empress. That's the complete opposite of the typical Bollywood heroine. She hasn't been acting much, but a couple of years ago she romanced Andy Lau in a sick powersuit, and just a year or two ago broke everyone's heart as the wife of a writer during the Cultural Revolution. This year? She's the baddie in one of the blockbusters on this season- The Monkey King 2. And yeah~ she still looks as fabulous as ever at 50 years old.
Besides staying power? Talent, especially when it comes to celebrities, you know? Someone that can do their job like no other? Interview (variety show appearace) perception is a big plus, but CV is important.
But sometimes, so it happens, I also break my own rules~ lol
Also~ my Pakistan, South East Asian, Middle East and Russian games are not strong. Neither is my Asian-Latino game. So forgive the lack of names there, and I do take suggestions (especially if they come with great movie recommendations~~~).
All below listed by seniority~