Archives For ayumi ito
Well, to be honest~ it's not really an interview. More like a blurb, but still- nice to see her.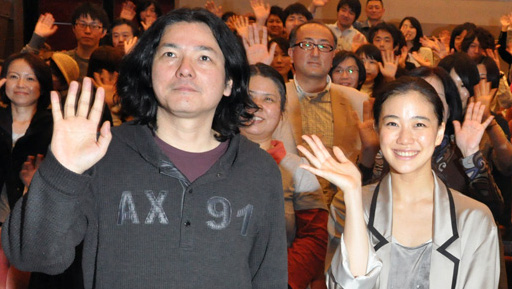 Oh hoh… teasing photo for those who wanted Shunji Iwai + Yu Aoi back together. xD
Please, I finally have found out about this photoshoot. I didn't really recognized Ayumi Ito on this, since I wasn't really THAT familiar with her work when I found the pictures, and I was probably too embarrassed to ask anyone about this shoot… because, the photos actually make me feel kind of uncomfortable LOL
And you know I wouldn't post photos just for posting. I wanted to know, and I finally figured it out.
Whenever I see Yu-chan sharing a photoshoot with a co-star — usually male — it's weird, like really awkward. I always thought it was a Japanese thing… have no chemistry, or barely touching your co-star. It's something that worked with Ninomiya in that Tekkon photoshoot, because it's him… and he's pretty much sexless to me. LOL
I have no idea if it's because Ayumi Ito is really REALLY awesome, and that Yu Aoi really gets along with her, but this photoshoot made me re-think my whole "it's a Japanese thing" theory. Maybe it's because Yu-chan feels more comfortable doing this stuff with girls — because there's no sexual tension… or if she doesn't get along with most her male co-stars. Or maybe it is a cultural thing, and it's wrong in Japan to see her getting cozy with her male co-star for a shoot~~~
Anyone can explain? Enlighten us~~~
I was re-watching the DVD for Swallowtail Butterfly that I bought after watching the film on YouTube xD – and Because I'm cheap, I bought the Hong Kong version, when the Japanese version comes with English subtitles. I don't think it's the DVD per se, but the way it was shot. I don't really know what it is, it's scratchy, and it could certainly be because the film is kinda old. However, I would like to see a clean better release by Criterion… of all of Shunji Iwai written and directed films~
It's day 3 of the Wildgrounds Japanese Film Blogathon! And seriously, I am running out of okay topics to write about, but some of you guys are writing more than one post a day! You guys are non-stop!
First, with the sponsoring~~~
Toma-Uno joined the blogathon with their post on Satoshi Kon — sorry, only in Spanish atm. And since we're discussing Satoshi Kon, the guys at V Cinema contributed with their podcast on him, plus! A look at Twenty-Four Eyes (aka. Nijuushi no Hitomi), as well as various film reviews… including One Million Yen Girl!
Which reminds me… I haven't done any Yu Aoi Film Discussion posts in a very long while — just checked, it's been nearly a year, and it's been because I wanted to hold-off until I had seen any of her films released this year… or any non-sub film with new subtitles…
But moving on, today's topic is~~~