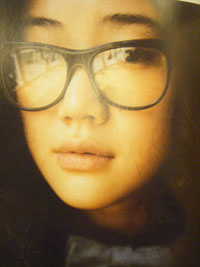 A couple of days ago, I posted a random post as a quickie. I had found a photo (pictured on the right) that I hadn't seen before, and that led me to one of the most interesting quasi-pseudo-intellectual post on any Japanese idol I had ever read.
Some might differ… Yu, an idol? Give or take~~~
I hope you do find that post as interesting as I did.
Here's an excerpt:
"If you follow Yu Aoi through Japanese popular culture, you find that, over and over again, she's cast as an advanced, soft being, a quirky, childlike, expressive, kind-hearted fairy, modestly unaware of her own beauty and unwilling to use it in power games.

…"
Now, if you haven't found that post in your quest for more Yu Aoi, and are not interested by that statement. What's wrong with you?? Ha!
What's fascinating about it is the reference to Gutai, which got me asking what Gutai is and what it's all about. Sure, that Wiki article just simplifies it all… so if you want to get into it, head over here to read The Gutai Manifesto.