Archives For yu aoi
For those of you who didn't know, Kobukuro has just released a brand new album (CALLING), which I'm not necessarily loving… but that's a tough job to pull considering how awesome ALL SINGLES BEST was as a compilation.
Anyway…
SPAZZ! There's a new article over at Barks.jp with a couple of
photos of Yu on the CM for the new album…
also with a new interview.
French-dub!!!!
*burst out laughing*
You know how I feel about dubbing, but this is just too much. xD
Plus, Yu-chan voice-over acting skills, promoting LG (Korea or International?),
and she even manages to mention gohan (food) and ke~ki (cake) – How? Dunno~
I thought I would also post this today, beginning of August!
Crap! Does time pass by f aster as you get older??
Or is the Earth turning faster than before? xD
I made this wallpaper sized 1680×1050 with calendar and Yu's 24th B-day
all marked and really, with cheesy Japanese scribble by Amy included~~~
Also, hopefully… in two weeks time, YAM005.
If you haven't read previous YAM issues, do so over here.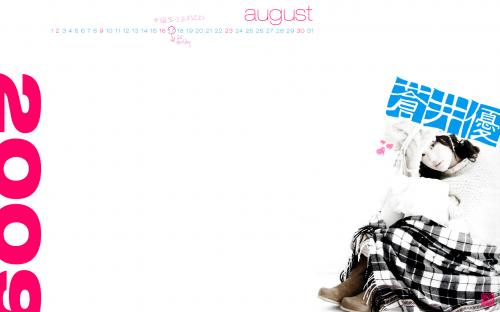 Woah, long time no Yu posting! LOL
xD
I dunno if anyone's seen this, but it's a discovery for me.
Je detest lire, et ecrire en francais aussi.
Les accents, je les detest!
lol
Anyway! From H Magazine~~~
KOMIKKU06
Manga mitai ni Ikitai
Something like Comic'06 – Living (or I want to live) like Manga –
or Manga-looking Life. LOL' Japanese is all about interpretation xD
Tekkonkinkreet is one of my fave Yu projects~