Anomalous Material has posted this for the Encore Entertainment blogathon.
So here's mine. Hopefully they're not THAT common. Of course, you might be waiting for me to pick the Kiss in the Rain from The Notebook with sizzling Ryan Gosling and Rachel McAdams, or the Kiss in the Summer Rain from Cinema Paradiso… because even though I don't appear to be, I'm a sucker for romance.
And tonight, I'm in the mood for some romance, so… I'll pick, the Dare scene under the rain of Jeux d'Enfants, who by the way also made it to my list of Best Kisses, why? Because it's got Marion, and for some reason I find that movie overly romantic in a very twisted way. LOL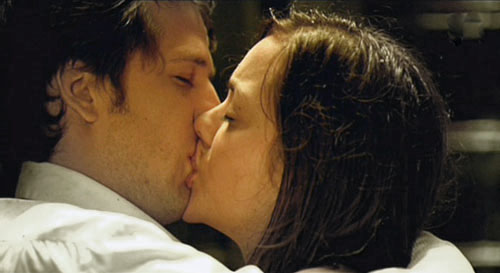 Watch the scene on YouTube. Of course, spoilers.
What do I like about that scene? Maybe it's how their twisted relationship is build up to that point where they finally realize they are meant to be after all the sick stuff they made each other do. Then you've got Sophie arriving after realizing that Julien isn't really dead, and him realizing the lie he just told. Their respective partners being completely ignored because nothing else matters, and Julien singing La Vie en Rose out of tune.