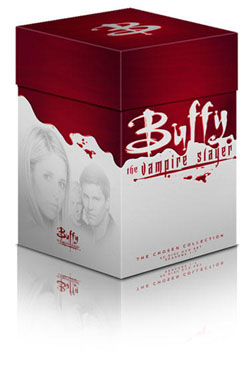 I always thought Buffy the Vampire Slayer was a popular show, but apparently is not very cool to say you like Buffy. But I disagree. I respect people who have watched the show and don't particularly like it, but the most uncool of the uncool people are the ones who think are TOO COOL to watch or like a show like Buffy.
I'm one of those people who grew up watching Buffy… something that my writing teacher thought was nifty. The fact is that I was like 11 when I remember watching an episode of Buffy… and I have been a fan ever since. Am now 22, so have been a Buffy (and Whedon fan) for half my life. Le GASP!
I've seen the episodes so many times, that even my mom (who despises Fantasy and Sci-Fi) has seen repeat episodes of Buffy. Once, while watching a re-run on Canal Fox, my mom told me "Haven't you watched this episode before? I know I have seen it at least 3 times… so by now you must know all the lines."
The fact is that growing up watching Buffy shaped who I am today (I am most certainly sure about that). Being an impressionable 11-year-old with a knack for martial arts (am a fan of Bruce Lee), I thought Buffy kicked major ASS.
So it was so easy for me to watch Buffy… with a combination of ass-kicking, supernatural, and teenager-ness that gave a great transition of viewing habits between my pre-teen and teen years. It does help a lot as a young adult to know that Buffy was metaphorical (but you don't really know what a metaphor means when you're 12… do you?). So for those of you who don't know… What the EFF is Buffy about?