Archives For james mcavoy
Who made it and who didn't? I was surprised myself. LOL Don't forget to comment and share ;)
You've named them… some of you voted multiple times, I know. And some of you only voted for one actress instead of one actor and one actress. But the votes are in. And winning, with a boost from the running of Inception on theaters, with 23% of the votes is none other than dear Joseph Gordon Levitt. Despite leading the poll at the beginning, Natalie Portman ended up with 19% of the votes with a late boost from the screenings from Black Swan… but I guess the people that saw Black Swan don't visit the site, thus that didn't translate into votes.
Your Favorite Top20 to Watch Between 25-30

And they recently released their Hot 100 [plus Top 10 Men of Color, Top 10 over 50, Top 10 Out Gay Men]. So let's talk about MEN~~~ You know gay men love them guys buffed, most of the times.
So can I just say… some of them are just questionable? xD
Let's start with Eddie Cibrian [who cheated on his wife and is now dating Leann Rimes, who "se me cayo"], then Milo Ventimiglia [whom after dating Panettiere seems like a total creep], Robert Pattison [whose stinky rumors are now forever plastered in my memories whenever I hear his name], Gerard Butler [who after starring on Dear Frankie and quivering, turned into total skeeze], Kellan Lutz [WHO? Oh yeah, Twilight], Ryan Phillippe [come on… really? multiple cheating is a multiple turn-off], Channing Tatum [enough with the meat already…], Zac Efron [Gosh… I feel I'm hairier than him… and we're kinda the same age], Taylor Lautner [Okay, that's just creepy… but then again MOMS dream about him, so I guess you guys are less creepy.], Ryan Reynolds [seriously guys… where is the substance…], and finally David Boreanaz whom I totally loved until recently. Man is a total let-down.
Now that I've got my disagreements, can I just say I feel really REALLY proud of Chris Colfer? He made the list, and I feel so giddy for him!
Other notable appearances? Tom Ford, Daniel Craig, Robert Downey Jr., Jesse Tyler Ferguson (Modern Family), James McAvoy, Lee Pace, Joseph Gordon-Levitt, Taye Diggs, ever on the list even if there's no movies Johnny Depp, another who's ever there Brad Pitt, newest addition hottie Mark Salling (Glee)~~~
Crap, I'm gonna have to make an exception here, as James McAvoy has just turned 31 — about two days ago — but I had already added him to the list. I knew I was cutting it too close…
Anyway, McAvoy places #5 on the list of the 20 to Watch, which marks the first 5 names to be added. Now, I will add my 5 additions to the Actresses list, and we'll continue with one guy and a girl ;P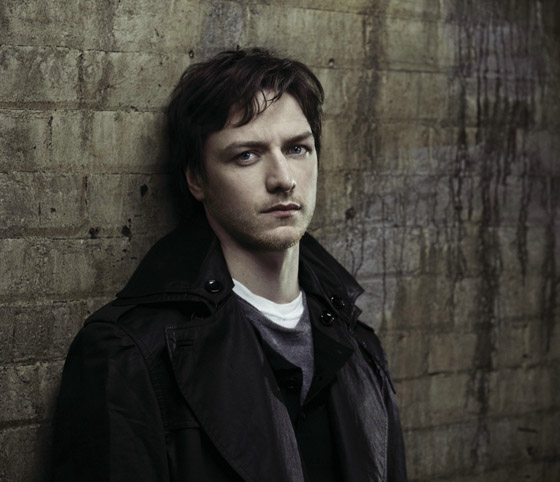 Born in Port Glasgow, Scotland on April 21st 1979, James McAvoy is probably best known for playing Wesley Gibson alongside Angelina Jolie in the action film Wanted released in 2008. However, he shot to fame for playing opposite Forest Whitaker in The Last King of Scotland in 2006. After it, he was cast as the male lead in films such as Penelope with Christina Ricci, as well as Becoming Jane alongside Anne Hathaway.
He has also shared the screen in the well-received Atonement with Keira Knightley, Saoirse Ronan and fellow the 20 to Watch Jérémie Renier. He followed the project with The Last Station last year, which was also received well in critic circles.
It's true that he's dropped out of projects due to personal reasons, but McAvoy still has a couple of projects for the next couple of years, starting with The Conspirator directed by Robert Redford, and sharing credits alongside Kevin Kline, Tom Wilkinson, Robin Wright, and fellow the 20 to Watch Evan Rachel Wood.
I'm starting out my list this week… with lack of visitor's response.
No complaining from you then~~~
I'm gonna start out with 5 of the guys, followed by 5 of the girls like last time. Only properly.