Archives For brad pitt
I was finally doing some room cleaning, and ran into this plastic bag that had a whole bunch of the tickets of movies I caught while living/staying in Van. The results? Of course, I spent over two hours trying to make out some of the fade tickets, arranged them and put them in order of attendance.
The first movie that I caught there was Hulk at what used to be Tinseltown Cinemark. The first two columns cover my first year of studies. My maximum number of movies a month was 9 flicks in January 2004 (Cold Mountain, Big Fish, Peter Pan, 21 Grams, Along Came Polly, Monster, Butterfly Effect, The Cooler and Ginger Snaps 2), April 2004 (Hellboy, The Delicate Art of Parking, Kill Bill, Connie and Carla, Home on the Range, The Punisher, Dogville (twice) and Man on Fire), followed by July 2006 (Devil Wears Prada, The Omen,The Lake House, The King, PotC 2, Lady in the Water, Strangers with Candy, and an unidentified movie that's already faded) with 8 flicks.
I've got some pretty nice recommendations to share.
After some flame from their compilation of 135 Shots That Will Restore Your Faith in Cinema [1], Flavorwire is back with a new compilation~~~ this time around focusing on faces, their emotions and their beauty… to relative success. I don't think I could fault them… I had enough with Wong Kar Wai (included multiple times), multiple Zhang Yimou shots (and a double appearance of Gong Li to boot!), there was Park Chan Wook, Guillermo del Toro, Leslie Cheung's face.
It was a thing of beauty.
The only face I could possibly suggest would have been Greta Garbo's last shot on Queen Christina, but I'm content.
Ahh… I hope I can finish this post in less than 30min. LOL Or sure I'll be whining with the people at Anomalous Material for posting so many Memes xD
But we're lazy, so we're doing a 31-day Meme into one post. Just like we did on the TV Meme… only with more pictures! Because I think that TV Meme needs photos, right?
1. A Sequel that Shouldn't Have Been Made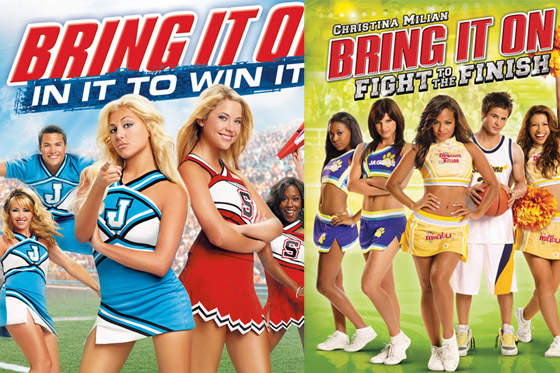 You know there should be something wrong when all the sequels went straight to DVD. That's a sad sad ending for a good cheesy film like Bring it On. The sequels bring so much shame when mentioning Bring it On, which by the way had Kirsten Dunst and Eliza Dushku… and Gabrielle Union. And cheers. I said Brrrr it's cold in here! There must be some Clovers in the atmosphere~~~ LOL a perfect introduction to setup what the cheese will be about, and a more poppy-end-of-the 90s-rendition of Hey, Mickey!